The race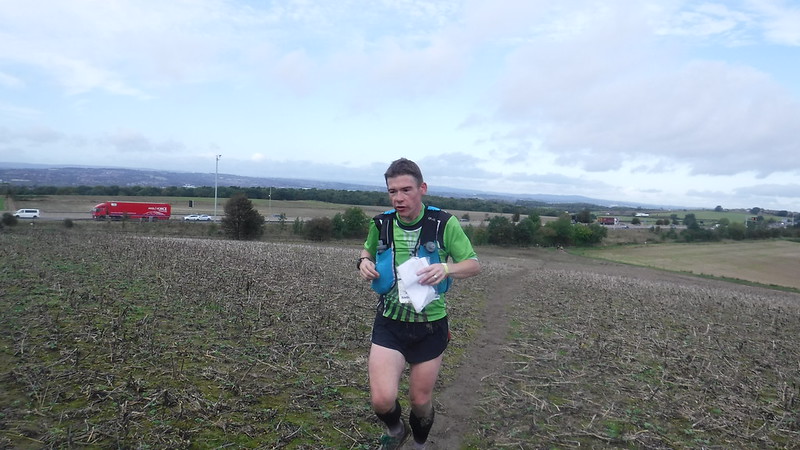 And so we come to looking at the final Runfurther 2019 event – the Round Rotherham 50.  A gruelling 50 miles round Rotherham in South Yorkshire, with complex routefinding, plenty of mud this year, and not many hills.  Yet again it made for a brilliant climax to the Runfurther championship.  Only Rory Harris could afford to take it easy, and needless to say he didn't.
So, to the race results.  The outstanding performance of the day was Ben Hague's winning time of 5:57:18.  This is the first time anyone's ever run the race in under 6 hours, and Ben broke his own record time from last year.  Rory finished second, but was half an hour behind Ben, in a time of 6:28:05.  Third was Scott Williams in 6:57:32 – both Ben and Scott are local runners, members of Rotherham Harriers.  Fourth and fifth were Ken Sutor and Kevin Hoult, both previous men's winners of the race.  And sixth was Sabrina Verjee in 7:47:41.  This has to be the second most impressive run of the day, as it was her first time running in the event, and this really wasn't her usual running territory – she's a brilliant mountain runner but not really known for navigating round industrial estates.  Clearly she can do that too, although she did set off with Kevin Hoult, so she may have had some assistance with the navigation for some of the way.  Anyway, she was less than 10 minutes outside the women's record for the event (Kate Bailey, 7:38:02 in 2010).  Second woman was Elly Woodhead (9:00:03) and third Karen Nash (9:04:05), both well over an hour behind Sabrina.  Full results are up on the Sportident results site.
Karen has written up her blog, and you can find that on her site here, or read it below.  Nick Ham finished in a respectable time, which was good to see after his recent health problems.  As usual he took photos along the way, and I've used some here, although not any of his flytipping ones.  You can find the rest of them on Nick's Flickr site.  There is another blog write-up here, and from comparing his finishing time with the results, I think it's probably by Charles Colbourn, although it could be Colin Jordan or Richard Gordon.  I've no idea how he got a photo of David Byrne while racing though.
Runfurther Championship results
And so I can now reveal the winners of the Runfurther 2019 competition.  Subject to appeal over the Rotherham results of course.  This year I'm going to start with the women.
Women's winners
1st:  Sabrina Verjee, 3948 points
2nd:  Hayley Evans (Buckley Runners), 3857 points
3rd:  Karen Nash (Team Krypton), 3853 points
I don't think there'll be much arguing that the best runner won this year.  Sabrina was actually first woman in four Runfurther races this year, although only three of these were counters, as none of them was a Short race.  Hayley beat her in the Lakeland Five Passes race, but this was just after Sabrina's Ramsay Round and Dragon's Back runs, which must have taken a lot out of her.  Sabrina beat Hayley in the Lakes 42, and has beaten Karen in all five of the Runfurther races they both finished.  Hayley beat Karen in both Lakes races, the only two events they both ran.
FV50
1st:  Karen Nash (Team Krypton), 3853 points
2nd:  Jenny Wyles (Chorley Athletic and Tri), 3148 points
As usual, Karen's first FV50 by a country mile.  Well done to Jenny though, as that's a very good points score.  She got almost as many points as Martin Terry, the MV50 winner.
FV60
1st:  Janet Hill (Springfield Striders), 2988 points
Well done Janet!  Again, that's an impressive points score.  I suspect Janet won't have any real competition until Karen turns 60, but who knows who will run next year?
Men's winners
1st:  Rory Harris, 3987 points
2nd:  David Chetta (Mercia Fell Runners), 3835 points
3rd:  Kevin Hoult (Calder Valley Fell Runners), 3829 points
Rory was 3rd in 2017 and 2nd last year.  He's been running better and better, and this year he's won the title with room to spare.  Congratulations to Rory.  David was 4th in 2017, and 3rd last year, so presumably he's aiming to win in 2020!  Again he's been improving year by year.  Kevin was close behind him, but would have needed a much faster run at Rotherham to overtake him.
MV50
1st:  Martin Terry (Clayton-le-Moors Harriers), 3169 points
2nd:  Kevin Smith, 2888 points
3rd:  Steve Jones (Dark Peak Fell Runners), 2700 points
Well Martin always wins this category.  Kevin comes 2nd again, as he did last year.
MV60
1st: Alwyn Nixon, 2770 points
2nd:  Stephen Hall (Skipton AC), 2249 points
For the second year running, Alwyn wins, and Stephen is second.
MV70
Dick Scroop (Mercia Fell Runners), 1762 points
After two years as runner up to Bob Nash, Dick wins this year, as Bob hasn't run a Long race this year.
Grand Slams
Nobody managed a Grand Slam of all 12 races this year.  Let's hope that changes for 2020!
Most points
Women:  Karen Nash (Team Krypton), 7353 points
Men:  David Chetta (Mercia Fell Runners), 6463 points
Team Championship
1st:  Team Krypton (Karen Nash, Nick Ham and Elise Milnes), 7952 points
2nd:  Astley & Tyldesley Road Runners (Tim Campbell, Simon Ford and David Sloan), 7861 points
3rd:  Valley Striders AC (Anthony Fryer, Sarah Smith and Tim Straughan), 7421 points
Many congratulations to all this year's winners!  And to the rest of you: keep training and beat them next year!  The full completed 2019 leaderboard has been finalised, and you can find that here.
The 2019 AGM and prizegiving location, date and time will be announced shortly, so keep checking this website.  The same goes for the 2020 races.
Karen's race report
Round Rotherham- the last race of the series
It's a funny race. I both love and hate it. Yet this was to be my 9th outing.
Hate it? Well yes. It is my annual punishment sufferfest as the course is flat and fast making it totally unsuitable for an ageing plodder who has rarely done sufficient training. It always hurts. My foot also hates the hard surfaces of many of the tracks and especially the efforts made by some fool who tipped aggregate along a nice muddy path.
Have never seen this in Wentworth before
I also hate the fly tipping and the lack of pride in community that this shows is depressing.
Despite the notice this seems the usual sight here
I do though love the people, quite like pitching myself against my previous times and the unpredictable October weather (although usually it is fine) and I love meeting up with old friends.
Briefing before 7am start
I don't even mind the agricultural fields and the industrial scenery- I just let my mind wander on the history and feel sorry for the communities like Orgreave for what they suffered in the miners strikes. It's not all horrid fly tipping some of the villages are pretty and the Roche Abbey area is lovely.
Roche Abbey
I completed number 9 and so now I guess I will return next year to get my special award for 10. Not that this is very impressive as Henry Morris has just achieved 30 and on one year did it twice with back to back runs.
Sharon the RO supervising Steve handing out dibbers
The race usually heralds the end of the Runfurther season and our last committee meeting before the AGM and Prize-giving. That's my excuse for my head not always being in the right place! This year I had more excuses… my summer of six weeks rock climbing and one big event which involved lots of power walking up mountains and careful running down the other side is not ideal preparation for 50 flat miles.
No 243- she made it just
On top of this I had successfully arranged for Sabrina to target winning the Runfurther Women's champs. Fearing I might do RR without her and so take important points she had entered too, even though it was not the sort of race she would enjoy. Then I worried about her getting lost and so arranged for Kevin to 'escort' her the best he could.  I really didn't want to win by default but this also meant that now I had no reason to run hard. We started together but even before Elsecar I knew I couldn't maintain that pace. Elly, a very young local girl, also shot off. Ah well, I would concentrate on being third.
At the start- I was soon feeling over dressed
The weather was superb. Dry, mild and even sunny later. The fields were nothing like as wet or muddy as I had feared. One local guy at Woodsetts was convinced I was taking the P*** when I said I thought it wasn't muddy. I had to explain that if you run on the West Pennine Moors mud means people swallowing bogs not a bit of mud on your shoes and some splashes on your legs. Don't think he will be visiting us soon!
Ken smiling and flying
Despite the hard (for me) pace I was enjoying myself. I had a chat with David B who I do not see often. I ran with Martin from NY Moors until I couldn't keep up but then overtook him in the latter stages.
V50 Martin
I only saw Chris briefly as he stopped for a toilet break and then got lost- not often I beat him. It was good to see Nigel who I rarely see at races now. Then there were others lurking not far behind but getting closer over the past year- Kevin S and Sarah C.
Rory and Ken- two lovely super fast men
I was 'around' the same three men for much of the race with each of us proving stronger at different points and each of us stopping for different spells at CPs. I think I stopped longest but I was struggling to eat on the move and was trying hard to make sure I got some calories in without only relying on Mountain Fuel jellies and Raw Energy powder.
Langfold lake and smiling
Being with then certainly stopped my time from drifting even more badly and I am very grateful for Kevin B who had started at 6am but ran the last miles for me. As he kept trying to run it shamed me into joining in.  It was a happy partnership with me knowing the way, the odd chat and a bit of mutual motivation. The one place I didn't stop was the new CP which had moved from Old Denaby to Hooton Roberts. It was very slightly off the path and at that stage I still had hopes of scraping in under 9 hours.
With Elly
I am very very glad I didn't know that Elly was in fact only 30 seconds ahead here. Her mum texted her that message and she wished she hadn't. She too was dog tired and now knew she had to keep running. I don't think I could have done much about if even if I had known but it would have been interesting to see I suppose. We made good time along the riverside and canal but I did walk up through the slow climb in Swinton (well it's flat almost if you haven't run 50 miles) and then after Dearne College I had a couple of moments when I realised that the race was more than 50 miles, more than 81km and I would not be under 9 hours.
So Thanks to Kevin for his company, to Sharon and all the organisers etc as usual, to Kevin H for helping Sabrina,
Kevin
and Sabrina
to the farmer who had not ploughed the whole field but had left a strip of grass to run on and to the farmers who had crops in the fields rather than a ploughed mess.
Biggest thanks go to Bob who injured had gone for a bike ride instead of running but then made sure he was back to try to get runners to take spot prizes, to get my shower stuff from the van which was down on the beach and to help with all the flags and banners.
The 'new' venue for the race is great in many ways BUT… instead of doing the nasty road and cycle path in the dark when you are full of adrenaline it instead comes at the end in the heat of the late afternoon when each roundabout seems like just one too far and too many.
So 3rd woman in 9hrs 04 just 4 minutes behind Elly but a whole hour plus behind Sabrina. Hindsight is an amazing thing… If I had managed to persuade my body to try and got the 9 hours I wouldn't have made any impact on Sabrina who was within 10 mins of the women's record but I would have overtaken Hayley to be 2nd in the RF series. The men's points were also dented when the local runner Ben lowered his own record to 5 hrs 57 – yes for 50 miles with some mud.
Dick was happy to get his 4th race and to take the lead in the Runfurther V70 stakes.