The Race
Saturday saw the last of the Long Runfurther races for 2017, and the 10th race of the year.  Round Rotherham is loved by many, and dreaded by some.  At least there was warm weather this time.  Karen's race report is on her blog here, and the results are up on SportIdent here.  Nick's photos are here. First home was our own Ken Sutor (Cheshire Hash House Harriers) in 7:01:13, with last year's winner Kevin Hoult (Calder Valley FR) unable to keep up: he finished 2nd in 7:20:35, 50 minutes slower than last year.  3rd was Kevin Doyle (Kimberworth Striders) in 7:32:22 – he was 2nd last year.  First woman home was Elly Woodhead (also Kimberworth Striders), 17th overall in 9:18:38.  2nd woman was Karen Nash in 9:21:00, and 3rd was Sharon Gayter (N York Moors AC) in 9:25:02.  169 finished, which I think was slightly down on last year.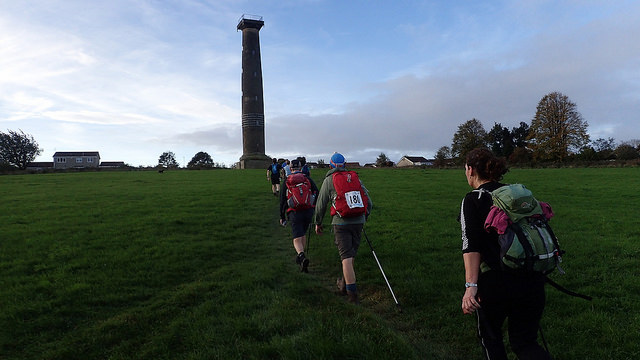 Runfurther Standings
There are 2 races to go now:  the Jedburgh Ultra and the White Rose Ultra.  Jedburgh has been full for a while, and the entry list is available online.  The White Rose Ultra is still open for entries.  So, assuming that nobody else can get themselves on the Jedburgh entry list, I've done a bit of analysis trying to predict who's going to win what…
The women
I've started with the women's competition because it's a bit simpler than the men's.  Nobody can catch Karen Nash now, and of course she's top FV50 as well at first overall.  Sarah Smith is currently second, and the only runners who can catch her are Charlotte Smith and Debbie Cooper.  Charlotte's chance is a theoretical one only: she would need an unbelievable result at the White Rose Ultra to catch Sarah.  Debbie on the other hand only needs to run her usual race at Jedburgh and she'll have that 2nd place in the bag.  Nobody else can catch Sarah for 3rd place though, and she'll be 2nd FV50 whatever happens.  4th and 5th places overall depend on who runs the White Rose Ultra.  Katherine Rogers is currently 4th, but there are a few runners who could bump her out of the top 5 (or Debbie if she doesn't finish at Jedburgh).
The men
The first two places in the men's competition will go to Kevin Hoult and Ken Sutor.  The only question is which of them will win: Kevin is currently 5 points ahead of Ken.  Neither of them has entered Jedburgh, but of course either or both could run the White Rose Ultra.  In practice if either runs they just need to make sure the other doesn't finish ahead of them.  Unfortunately all this is a bit clouded by events at the Long Tour of Bradwell.  The Runfurther points are based on the official results of the races, and Ken finished 3rd in that race, giving him 928 Runfurther points.  It has recently emerged that the two runners who finished ahead of Ken failed to record a time at CP14 in that race – a control that is difficult to locate.  If they didn't visit that control, then the race rules state they should be disqualified.  On the other hand the race rules don't state they must record a time successfully at each control.  All this is very unfortunate for Ken, but we can't override the results of the race.  We can't contact the two runners concerned, as they aren't Runfurther members.  And of course we have no idea whether they visited the control or not.
Third place may well go to David Chetta, who is currently 3rd.  Stewart Bellamy or Daniel Page could catch him though, if they run well at the White Rose Ultra.  Other runners could theoretically come 3rd, but only if they ran much faster than they usually do.  The other main contender for a top 5 places is Adam Worrallo: Chris Davies could get there though, if he ran well at the White Rose 30.  Martin Terry is probably going to be 1st MV50, although Chris Davies could catch him with a very fast White Rose run.  If Peter Agnew runs the White Rose 30 he'll probably be the 3rd  MV50.  If not, Kevin Smith will take the 3rd place, unless Alwyn Nixon runs the WR30 fast.  Chris Davies is confirmed as first MV60, Alwyn Nixon is 2nd, and Bob Nash 3rd.  Bob's also first MV70, with Dick Scroop 2nd.  Barney Nikolich will be first under 25, provided he finishes at Jedburgh to get his 4th counter.
Teams
Currently, Team Krypton is leading the team competition with 8201 points from 10 results, Calder Valley FR are 2nd with 7846 points from 9 results, and Mercia FR 3rd with 7678 from 9 results.  These are almost certainly going to be the top 3 teams.  My expectation is that CVFR will win, as Ian Symington has entered Jedburgh, and if he runs a decent race then that will bump Krypton down into 2nd place.