Karen's written up something about the AGM and prizegiving, as well as the race beforehand.  The minutes of the AGM will have to wait until Dick has finished electioneering – he's a bit busy.  The photos here are Karen's: you can find Nick's photos on Flickr here, and his photos of the race beforehand are here.  Anyway, here's Karen's report:
Kong mini mm and then the Runfurther AGM and Prize Giving.
As last year we decided using a mini mm or score event was a good way to make it worthwhile for runners to travel. It also has the advantage of reducing the time faster runners have to wait around and it is good fun and nav practice too.  Injury and illness meant some could not run this year but those that did seemed to enjoy it.
I don't think I have ever run from Greenfield before although I have been on some of the NE corner of the map before apparently. We left home early and travelled fast on deserted motorways. Parking was easy and I was able to relax. I always wonder why I don't do more of these mini mountain marathons as I love the format and adventure. Today the weather was on our side too- dry except for a tiny spot of drizzle, not too boggy and good visibility. It would have been very different in the clag. I had no great plan but decided any hard hills should be tackled straight away and the road and big tracks left for the end when I was tired. There seemed to be others going up Alphin to the trig point but once I had dibbed there people vanished. The path towards Hoarstone Edge and my next control was fairly easy running and I guess the fires from last year helped. Once I left that CP it was clear that Mark and I would be running a similar route. I did see the Sunter family as we dropped off Wimberry Moss but then Mark and I were alone for about two and a half hours. In some ways I like this as there are no distractions and it's very peaceful but there is always that nagging doubt of 'oh hell, why is nobody else going this way? Have I made a really stupid route choice?' I hoped not but was being tempted by a line of 40 pointers and then two 50s
After 4 controls the terrain became considerably less runnable but not truly awful and the clear vis let me pick out the huge rock on the skyline which was next.  It was a bit disconcerting to find most fences were not mapped and my route to my 7th CP seemed to take forever. I had hoped for a speedy descent to Pennine Way path but the terrain was not easy even if the next control on another huge boulder was.  The climb up to a 50 pointer was faster than I expected and I found a nice trod above the steep slope but below Bargeholme Moss all the way to the control on The Castle. Crossing Crowden Brook was interesting and I am sure the mountain bikers watching were disappointed when I stayed upright on the greasy slabs.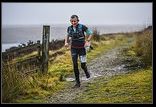 Better running along the PW suddenly meant loads of people, even if they were mostly coming the other way. Heading back from there I saw I had about an hour. Tired legs now but time to get closer to the finish.  Leaving Blackchew Head I was slow even though it was sort of downhill. Perhaps I should have eaten something.  After Chew Reservoir I made the decision to bank the points I had and play it safe. I ran down the road, ignoring a 30 pointer way up a rocky slope. Very tired legs saw me stumble after banking another 20 points and 'windmill' for about 20m- I stayed upright to my amazement and got a round of applause from nearby walkers.  With just one more 20 and easy running I knew I could be safely back in 4 hours and could slow down. Mark was nowhere to be seen (he had gone for the 30) but he reappeared as I stood chatting at the finish car.  The remote finish meant a leisurely jog back to the village where I met Bob coming up the hill for a walk. Back at download it was confirmed that my route choice had been fine. I was third at this stage with stacks of points.  Even by the end I stayed ahead of all the other females and was happy with some of the scalps I had taken.  Fast runners and great orienteers like Neil Talbot scored super amounts of points but I stayed in the top 20 and was happy.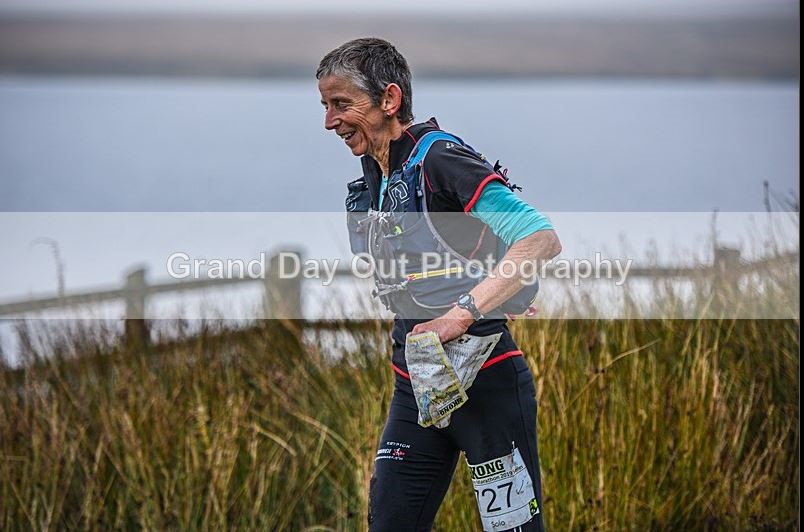 Wonderful homemade soup made me even happier as did the big cup of tea and the cake.  I had totally destroyed my fell shoes though and need a pair for a race soon. Luckily Kong had some in my size, with grip and a wide toe box.  I will be washing my Altras and taking photos to send to the company. The soles are still fine but the uppers are shot.
Once changed it was great to have time to wander around chatting to people I only see at such events. Then it was time to move up the hill and search out the home of Chris and Carol Davies who were kindly hosting the AGM.  Once the Runfurther flag was up in the garden we were still early so we stood drinking tea and coffee in the kitchen as we put the world to rights.  Their lounge on the upper floor in what was a weaver's house easily accommodated us all and proved to be a really convivial location. Big thanks to the Davies for the use of their home.
With the official business out of the way we stopped to eat, drink and chat before moving on to the prize giving. Sadly some runners were absent for a variety of reasons- trekking and racing in Nepal, injured and unable to drive, busy with family…
As always there were masses of prizes and Si Berry arrived with even more. Injinji socks for everyone! The reward this year was a mug and these went down well. Thanks to all those who made the effort to be there- especially Rory with his arm in a sling meaning his wife and young daughter had to come too and also David Chetta who raced near his home in the morning but then drove to Greenfield.
I now have a box of certificates, prizes and rewards for those that didn't make it. If you email me when you think we might both be at a race I will try to hand them all over. (more photos on facebook) Minutes will be published but not until Dick has finished his work with the election. There was nothing controversial, the committee stays the same. 2020 races were announced and postcards handed out. Don't forget to email me if you want an invite to the Pendle Way in a Day event.
Karen (karen at runfurther.com)