The race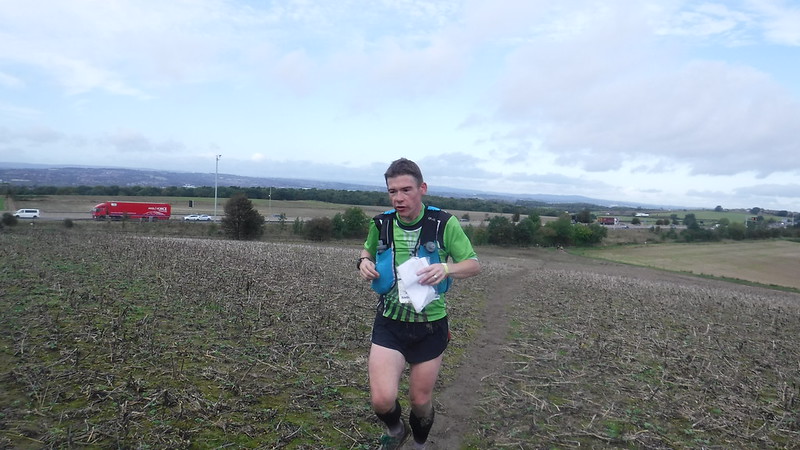 And so we come to looking at the final Runfurther 2019 event – the Round Rotherham 50.  A gruelling 50 miles round Rotherham in South Yorkshire, with complex routefinding, plenty of mud this year, and not many hills.  Yet again it made for a brilliant climax to the Runfurther championship.  Only Rory Harris could afford to take it easy, and needless to say he didn't.
So, to the race results.  The outstanding performance of the day was Ben Hague's winning time of 5:57:18.  This is the first time anyone's ever run the race in under 6 hours, and Ben broke his own record time from last year.  Rory finished second, but was half an hour behind Ben, in a time of 6:28:05.  Third was Scott Williams in 6:57:32 – both Ben and Scott are local runners, members of Rotherham Harriers.  Fourth and fifth were Ken Sutor and Kevin Hoult, both previous men's winners of the race.  And sixth was Sabrina Verjee in 7:47:41.  This has to be the second most impressive run of the day, as it was her first time running in the event, and this really wasn't her usual running territory – she's a brilliant mountain runner but not really known for navigating round industrial estates.  Clearly she can do that too, although she did set off with Kevin Hoult, so she may have had some assistance with the navigation for some of the way.  Anyway, she was less than 10 minutes outside the women's record for the event (Kate Bailey, 7:38:02 in 2010).  Second woman was Elly Woodhead (9:00:03) and third Karen Nash (9:04:05), both well over an hour behind Sabrina.  Full results are up on the Sportident results site.
Karen will no doubt write up her blog shortly, and I'll update this with that when she's had the time to do it.  Nick Ham finished in a respectable time, which was good to see after his recent health problems.  As usual he took photos along the way, and I've used some here, although not any of his flytipping ones.  You can find the rest of them on Nick's Flickr site.
Runfurther Championship results
And so I can now reveal the winners of the Runfurther 2019 competition.  Subject to appeal over the Rotherham results of course.  This year I'm going to start with the women.
Women's winners
1st:  Sabrina Verjee, 3948 points
2nd:  Hayley Evans (Buckley Runners), 3857 points
3rd:  Karen Nash (Team Krypton), 3853 points
I don't think there'll be much arguing that the best runner won this year.  Sabrina was actually first woman in four Runfurther races this year, although only three of these were counters, as none of them was a Short race.  Hayley beat her in the Lakeland Five Passes race, but this was just after Sabrina's Ramsay Round and Dragon's Back runs, which must have taken a lot out of her.  Sabrina beat Hayley in the Lakes 42, and has beaten Karen in all five of the Runfurther races they both finished.  Hayley beat Karen in both Lakes races, the only two events they both ran.
FV50
1st:  Karen Nash (Team Krypton), 3853 points
2nd:  Jenny Wyles (Chorley Athletic and Tri), 3148 points
As usual, Karen's first FV50 by a country mile.  Well done to Jenny though, as that's a very good points score.  She got almost as many points as Martin Terry, the MV50 winner.
FV60
1st:  Janet Hill (Springfield Striders), 2988 points
Well done Janet!  Again, that's an impressive points score.  I suspect Janet won't have any real competition until Karen turns 60, but who knows who will run next year?
Men's winners
1st:  Rory Harris, 3987 points
2nd:  David Chetta (Mercia Fell Runners), 3835 points
3rd:  Kevin Hoult (Calder Valley Fell Runners), 3829 points
Rory was 3rd in 2017 and 2nd last year.  He's been running better and better, and this year he's won the title with room to spare.  Congratulations to Rory.  David was 4th in 2017, and 3rd last year, so presumably he's aiming to win in 2020!  Again he's been improving year by year.  Kevin was close behind him, but would have needed a much faster run at Rotherham to overtake him.
MV50
1st:  Martin Terry (Clayton-le-Moors Harriers), 3169 points
2nd:  Kevin Smith, 2888 points
3rd:  Steve Jones (Dark Peak Fell Runners), 2700 points
Well Martin always wins this category.  Kevin comes 2nd again, as he did last year.
MV60
1st: Alwyn Nixon, 2770 points
2nd:  Stephen Hall (Skipton AC), 2249 points
For the second year running, Alwyn wins, and Stephen is second.
MV70
Dick Scroop (Mercia Fell Runners), 1762 points
After two years as runner up to Bob Nash, Dick wins this year, as Bob hasn't run a Long race this year.
Grand Slams
Nobody managed a Grand Slam of all 12 races this year.  Let's hope that changes for 2020!
Most points
Women:  Karen Nash (Team Krypton), 7353 points
Men:  David Chetta (Mercia Fell Runners), 6463 points
Team Championship
1st:  Team Krypton (Karen Nash, Nick Ham and Elise Milnes), 7952 points
2nd:  Astley & Tyldesley Road Runners (Tim Campbell, Simon Ford and David Sloan), 7861 points
3rd:  Valley Striders AC (Anthony Fryer, Sarah Smith and Tim Straughan), 7421 points
Many congratulations to all this year's winners!  And to the rest of you: keep training and beat them next year!  The full completed 2019 leaderboard has been finalised, and you can find that here.
The 2019 AGM and prizegiving location, date and time will be announced shortly, so keep checking this website.  The same goes for the 2020 races.