The Race
Read Chris Davies's race report below for a good feel for what this race was about.  This is a low-key event for connoisseurs, with 39 finishers this year.  First in to Alston was new member Rory Harris in 6:06, second was David Chetta in 6:12, and 3rd was Chris Davies in 6:18 – Chris was first MV40, first MV50 and first MV60!  All three are Runfurther members, as were half the runners in the race.  First woman was Karen Nash once again, 9th overall in 7:28.  2nd woman was Kasia Osipowicz 7 minutes behind Karen, with Catherine Farrow 3rd in 7:54. Nick Ham's photos are here.
Full race results:
| | | |
| --- | --- | --- |
| Rory Harris | 6:06 | M |
| David Chetta | 6:12 | M |
| Chris Davies | 6:18 | MV60 |
| Mick McKenna | 6:22 | MV60 |
| Peter Agnew | 6:45 | MV50 |
| Steve Rivers | 7:18 | MV40 |
| Richard Wells | 7:24 | MV40 |
| Jonothan Wright | 7:24 | MV40 |
| Karen Nash | 7:28 | FV50 |
| Kasia Osipowicz | 7:35 | F |
| Oliver Hazel | 7:50 | M |
| Catherine Farrow | 7:54 | FV40 |
| Geoff Osbaldestin | 7:54 | MV40 |
| Kevin Smith | 7:56 | MV50 |
| Louise Staples | 7:56 | FV40 |
| Ian Heywood | 8:07 | MV50 |
| Peter Foulds | 8:10 | M |
| Robert Gittins | 8:16 | MV50 |
| Nick Ham | 8:18 | MV50 |
| Lucy Colquhoun | 8:27 |  F |
| Rob Kelman | 8:50 | MV40 |
| Andy Skelhorn | 8:50 | MV50 |
| Paul Feasey | 8:54 | MV50 |
| Charlotte Smith | 9:01 | FV40 |
| Barbara Clayton | 9:09 | FV40 |
| Mark Clayton | 9:09 | MV40 |
| Ian France | 9:12 | MV50 |
| Stuart Clarkson | 9:24 | MV40 |
| Michael Cottam | 9:28 | MV50 |
| Richard Townsend | 9:48 | MV50 |
| Alan Dick | 9:53 | MV50 |
| Carmen Elphick | 9:54 | FV40 |
| Tim Jackson | 9:56 | MV50 |
| Simon Caldwell | 10:04 | V40 |
| Caroline Cable | 10:29 | FV50 |
| Richard Fish | 10:29 | MV40 |
| Robert Nash | 10:29 | MV70 |
| Katherine Rogers | 10:52 | FV40 |
| Peter Sowerby | 10:52 | MV50 |
Chris Davies's Race Report
All photos by Karen Nash except for the one of Karen, which is Joe Faulkner's.
Nav4 Pennine 39
If you've never seen it before it must be quite something to approach High Cup Nick from the east.  Running the Pennine 39 you would have had the chance to appreciate the beauty of Upper Teesdale for a couple of hours, and perhaps you might have been wondering why there was a big space ahead where there used to be hills, and then suddenly that amazing U-shaped valley with its frame of rocky edges would have dropped away in front of you, opening up a huge view to leave you looking down and across the Eden plain to the Lake District mountains in the distance.   Only a minute or two to glance at it sideways though, then you're making your way around the northern edge to find the path down to Dufton.
Pennine 39?  It's certainly an accurate description of the number of runners taking part, with 14 Runfurther competitors amongst them, although in terms of mileage some would say that Pennine 36.5 would be closer to the truth.  But in bright weather and temperatures that were for the most part warm but not oppressively so, aided by a bit of breeze that cooled nicely, it was a lovely day for a run in spectacular scenery (it might be closer to P40 next year- Joe has ideas).

And what a very relaxed race.  The coach picked up the competitors at 8.15am and ferried us south to the start, giving a fine taste of the views for the day ahead.
An hour and a bit later, after crossing the Low Force footbridge over the Tees one person at a time, we were off – perhaps too fast for the organiser at the first checkpoint who missed the first half dozen runners before setting up shop.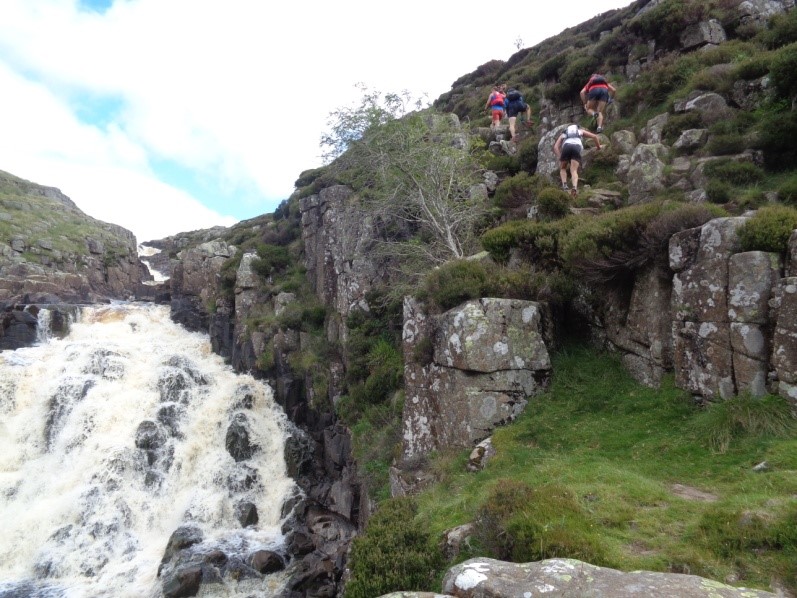 Mind you, it was best still be fresh when you reached the second checkpoint at Dufton because most of the 5,240 feet of climbing lay ahead, with maybe two or three hours of relatively gentle ascent to follow before reaching the highest point on the Pennine Way at Cross Fell (2,930').


Summiting that should have meant the worst was over, but I suspect that some tired runners turning corners on the stony track that followed, each time seeing it stretch out interminably into the distance, may have started to wonder whether they had been singled out for special punishment.
Others may have found the final three miles surprisingly hard.  The riverside footpath from the village of Garrigill to Alston is often beautiful, and frequently shaded by trees, but the frequency of the stiles is hard upon cramping legs and makes it difficult to establish a rhythm.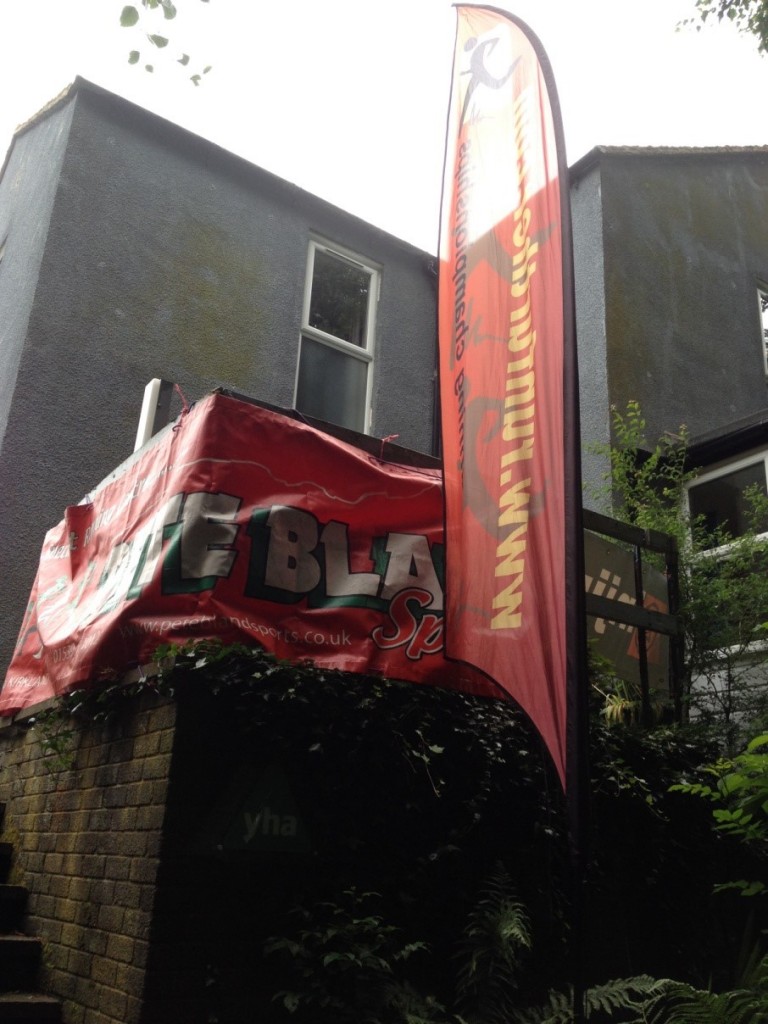 But soon enough the Runfurther flags will have come into view, with drinks and soup at the Alston youth hostel immediately available, and a good meal and evening to follow for all who stayed the night.
As for the race, Rory Harris kept David Chetta company from High Cup Nick before pushing ahead five miles from the finish to open a gap of six minutes and win in 6 hours 6 minutes.  For a while these 'youngsters' had to keep a wary eye on Chris Davies and Mick McKenna, two vet60 'oldsters' chasing them, but they never faced real challenge.  Chris finished in 6-18 with Mick four minutes behind, and vet50 Peter Agnew, who led until going wrong at the missing first checkpoint, clambering up the youth hostel steps in 6-45. (awesome run from Chris)
There are navigation errors in fell races, and then there are navigation errors.  Lucy Colquhoun had moved into fourth place by the top of Cross Fell but mistook the path down and ended up in Kirkland.  Retracing her steps cost her a whole two hours on what surely would otherwise have been a fine time. That left Kasia Osipowicz and a bruised and battered Karen Nash (having fallen on rocks) battling it out for the women's top place, with Karen finally taking the lead at the 30 miles mark to finish seven minutes ahead in 7-28.


Nick Ham finished happy with a PB in 8-18, and he and vet70 Bob Nash (10-29) are still in the race to complete the Runfurther grand slam.


Chris Davies
Runfurther Standings
Karen's now got maximum points in 3 races, & I'd expect her to improve her points score still further in one of the two remaining Short races – nobody's going to catch her now.  I'm expecting Debbie Cooper to finish as 2nd woman, but she has to finish at Jedburgh to do that, so we won't be sure until the end of October.  Charlotte Smith has already got 4 counters, and may well end up 3rd, but she can be caught.
The men's side is a lot less clear.  Kevin Hoult looks most likely to win, but there are plenty of contenders for 2nd place, and I'm not going to try to guess.  Chris Davies will be first MV60 again – he's got a good chance of first MV50 as well, as it;s looking pretty close between him and Martin Terry this year.
As for the teams, it's always hard to call this early in the calendar.  My money's on Calder Valley pipping Mercia this year though.  Next race is the Long Tour of Bradwell on 12 August – a great race!