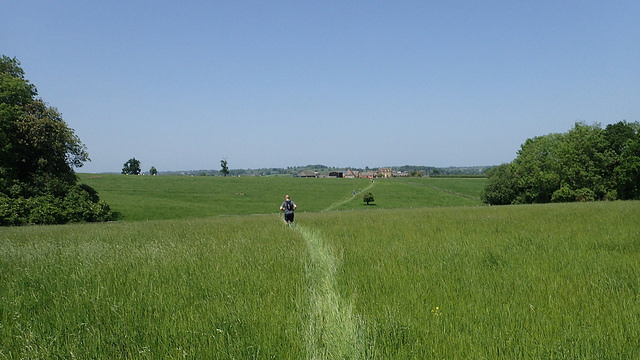 Race results
It always seems to be a sunny summer's day when we finish the Northants Ultra, and this year was another where we could sit around on the grass at the end, gradually recovering and clapping in the finishers.  There was a mist all morning, keeping the temperature reasonable until the sun came out at 12, but the mist had burnt off by then, and the afternoon was a hot one,without being too hot for running.  Conditions were great underfoot as well, and the winner, Stephen Marks of Rugby and Northants AC, set a new course record of 4:12:29.  181 started the race, and 171 finished.  Runfurther runners were first MV50 and first MV60 – Ned Lammas and me respectively.  Ironically the race didn't give either of us any Runfurther points though, as we both got better points scores at Haworth and Marlborough!
Many thanks to Steve Adams and his team – the event was as immaculately organised as ever.
Key finishing times:
1st  4:12:29  Stephen Marks, Rugby & Northants AC
2nd  4:14:48  Keith MacIntosh, Wimbledon Windmilers
3rd  4:16:52  Jon Ellis, Ealing
7th  4:46:37  Dougie Robinson (1st Runfurther member)
10th  4:58:07  Ned Lammas, Evesham Vale AC (1st MV50, 2nd Runfurther member)
15th  5:05:05  Mick Dobson, Trawden AC (3rd Runfurther member)
20th=  5:12:41  Amy Sarkies & Sally Baker, Rugby & Northants AC (1st & 2nd women)
29th  5:33:15  Rachel Dench, Tri King (3rd woman)
30th  5:34:21  Andy Robinson, Helsby RC (1st MV60, Runfurther)
Full results are on the race website here, and the updated Runfurther leaderboard is here.
Runfurther standings
Northants didn't give many additional pointers to who might be in the running for winning at the end of the year, but Ned Lammas has been putting in very strong performances in the short races, and at the moment he looks like the man to beat in the MV50 class.   Both Andy Davies (Mercia) and Chris Davies (Saddleworth) are running in the Pennine 39 on 18 June, and I'd expect them to secure top Man and top MV60 places respectively on the leaderboard as a result, assuming no wheels come off in the race.  They'll both be hard to unseat after that, I think.  My money's on Mercia for the team title this year – if both Stewart Bellamy and Ned Lammas run four counters they'll have a points score that will be very hard to catch.
Photos
Nick Ham was taking photos again, and you can find them on Flickr here.  There are also photos to buy on Adrian Howes' website here.  The photos on this page are Nick's, apart from the one of me finishing, which is Adrian's.
Andy's race report
I'd run this race twice before, the last times it was in the Runfurther Championship in 2013 and 2014.  Both times it had been hot, and it looked like it could be again.  The forecast was for the hot sunny weather to return, with the cloud due to burn off by late morning.  That turned out to be a correct forecast, but I hadn't expected it to be quite so cold first thing.  The race begins and ends in the beautiful grounds of Lamport Hall, so there's no shelter.  Usually that doesn't matter, but this year before the start everyone was huddled into fleeces and down jackets, and I had my gloves on.  Despite this I was going to travel light – I was pretty sure it would be warm enough once I got going, and t-shirt and shorts were the order of the day, as it always seems to be for this race.
Even though it was so far from home there were still a fair few people I knew to chat to – one of the benefits of Runfurther.  Nick and Dick were there early, and we got the Runfurther flags and boards up.  We equipped the registration desk with Romneys Kendal Mint Cake to give away, handed over the Runfurther prizes to RO Steve, and then had time to talk to some of the other runners, including Mick Dobson of Trawden AC who'd also made the long trip down.  Ned Lammas and Gary Upstone were a bit closer to home, so I wasn't surprised to see them there.  Both Gary and Nick Ham had run the LDWA Dorset 100 the previous weekend, so weren't expecting fast times – Gary's usually quite a bit faster than me, and had completed the 100 in under 23 hours.
My hope was to get round in under 6 hours.  I thought it should be possible, as I'd managed 5:36 in 2013, but then I was going well in 2013, and I'm now 3 years older.  2014 was the year I got a stress fracture in my shin in the January, and the specialist told be "no running until June".  I'd already entered the Northants Ultra, which was on 1 June that year, so my 2014 time of 6:53 was down to it being the first run of any sort for over 4 months!  I then checked through the past years' results, and it looked like the MV60 course record was 6:14, although the 2009 & 2010 results didn't have age categories, so I can't be sure of that.  Anyway that gave me something to aim at too.
Nearly all the 181 starters lined up at the start, and at 8:30 we were off, or nearly all of us were.  As we ran past the toilets, there were still one or two emerging and heading for the start, including Gary.  He's a keen runner, but I don't think he's that bothered about where he finishes compared with other runners, and he often sets off slowly.  Despite his 100 I was still expecting him to sweep past me later, as he had done at Marlborough.
My plan was to set off slightly faster than I was comfortable with, to get as many miles covered before the sun came out as I could.  I was expecting to struggle in the last few miles as a consequence, but I thought it would be the best plan for getting a fast time overall.  That's pretty much how it worked out.  This race is flatter and faster than my usual type of terrain, with a lot more road than I'm used to. I .don't generally run at such speeds for long, as steep hills and difficult ground generally slow me down.  Not so at the Northants Ultra – there's no respite at all.  The first 3 miles are fields and tracks, almost to CP1 at Cottesbrooke, then the first long road section starts.  No need to stop at CP1, and I pushed on north to Haselbech, where the current leading woman pulled up and retired.  I continued, now in the company of three other runners, two of whom were the eventual winning women, Amy Sarkies and Sally Baker of Rugby & Northants AC.  For quite a few miles we ran pretty much together, with them pulling away from me uphill, and me overhauling them again on the way down again.  All the villages on the route are on top of hills, and they generally got to the villages first!  I was still going well, through Naseby and Thornby, and with some relief off tarmac along the track and across the fields to West Haddon.
Another mile across the fields and we reached CP3 at Silworth Lodge, nearly halfway round.  By this time my legs were starting to feel the pace I'd been keeping up.  On the long flat section around the field edges towards Long Buckby I could feel my legs slowing down a bit, and I finally lost touch with Amy and Sally on the climb up to the village.  Still, I was now over halfway, and still running OK, if not quite as fast as I had been.
The next long road section to Great Brington felt so much better than it had in 2014, which was hardly surprising, but did work wonders psychologically, and I still felt very positive about the run.  I got to CP4 at Althorp at about 12, and now the sun was starting to come through and everything warmed up.  Still, I managed to trot my way up the hill to Harlestone OK.  I suppose it was on the next stretch north on the paths to Holdenby that I started having to watch my feet a bit more, as my gait became  bit less steady and I was no longer lifting my feet up as well.  I managed to keep running up the hill to Teeton, but only just, and for the first time, on the steeper hill into Creaton, I was reduced to a walk.  Still, I'd made good time so far, and had high hopes of a time around 5:30, if only I could keep going.  I crossed to main road in Creaton, took two steps down the alley behind the pub, and promptly tripped on the tarmac path, falling headfirst.  I managed to roll with it OK, and got away with grazes on my shoulderblade, hip, knee, elbow and a couple of ripped fingertips, one of which dripped blood for the rest of the run.  I got up, checked quickly for damage, and got running again.
It's a stiff climb up the field edge out of Creaton, and I couldn't run that either.  At the end of the field I caught up with a couple of runners who didn't know where to go next, so they then followed me for much of the rest of the way, although they took off once they were close enough to the finish.  I was in no state to talk by this time, just gritting my teeth and trying to get the last few miles done before I fell over.  I always get a great feeling of relief reaching the road crossing near CP1 on the way back, as that's where you join the route out, and to me it feels like the start of the last bit of the race.  I managed to keep running up the long hill to the covert, but only just.  Right turn after the covert, and then the next stretch to the old railway went on for ever.  It always does.  Even the railway itself seemed twice as long as it appears on the map, and then, at last, the right turn and the final climb up the field to the A508.  Dodge cars along the main road, turn left though the gates, round the corner on my last legs, and across the grass to the finish.  5:34:21, a PB by 2 minutes, and probably about 40 minutes off the MV60 course record.  It was my fastest Ultra run ever, averaging 6.1mph.
I was just in time to catch the end of the men's award ceremony, with Ned Lammas being awarded the MV50 trophy for his time of 4:58:07.  I didn't even get a chance to sink to the floor before I was clutching the MV60 trophy and posing for the camera with Ned.  No idea where the photo's gone, but if I find it I'll post it here.  I won some Injinji socks too, courtesy of some outfit called Runfurther!
Gary Upstone ambled in 11 minutes later, having found his legs a bit tired after the 100.  Nick Ham finished an hour or so later again, claiming his legs were fine, although I'm sure he'd have finished a lot quicker given a couple of weeks more recovery time.  I had to go then, so missed Dick Scroop finishing a few minutes later, in his best time since 2012.
So, two weeks to recover and then it's the Pennine 39, which I'm really looking forward to.  No chance of getting first MV60 for me there, as Chris Davies will be running!  If I finish within an hour of Chris I'll be happy with that.
Here's a photo of me finishing…