Runfurther AGM/Prizegiving
Before covering the High Peak 40, I just need to tell you that we've now booked a venue for this year's AGM and prizegiving – please be there if you possibly can.  We'll be announcing next year's races, providing sandwiches and chips, and there may even be cake and spot prizes.  There usually is.
Date:  Sunday 13 November, at 2:30.
Place:  George Hotel, Youlgreave, Bakewell, Derbyshire, DE45 1UW.
This  is timed to follow the Leg It Round Lathkil fell race, and is about 10 minutes' drive from Over Haddon, where the race is based.  That link still points to last year's info, but this year's race is the same.  It's enter on the day and starts at 11:30.  It's a 7.1 mile BM fell race, with 290m of ascent, so shouldn't be too much trouble for us Ultra runners (as long as we don't expect to win).
The High Peak 40
We had perfect weather for this year's High Peak 40, with the best views I can remember – the skies were so clear.  The full results are on the HP40 website.   Here's a summary:
1st:  Robin Sanderson (Herne Hill Harriers), 6:04:46
2nd:  Ed Melbourne, 6:13:44
3rd (2nd equal I think really):  Nick Hart, also 6:13:44
6th & 1st MV50:  Martin Terry (Clayton-le-Moors Harriers), 6:32:11
22nd & 1st woman:  Helen Morley (Belper Harriers), 7:28:34
41st & 2nd woman:  Debbie Cooper (Lytham St Annes RC), 8:01:30
44th & 3rd woman:  Yvonne Peake (Derwent Runners), 8:07:53
73rd & 1st FV50:  Nancy Bunyan (Macclesfield Harriers & AC), 10:21:02
There were exactly 100 finishers.
Nick Ham wasn't running, as he's got so many injury problems he's decided to take a break from serious running for a while so he can recover.  He did turn up to help me with the flags, banners etc, and then went out taking photos.  They're now up on his Flickr site here, and I've borrowed some to use here too.  My own race report is below, and Nigel Aston's is here.
Many thanks to Bill and his HP40 support team.  We had a great day.
We're working on next year's race list – or rather Karen is!  When it's confirmed we'll announce it here.  Next race is the Round Rotherham 50 – see you there!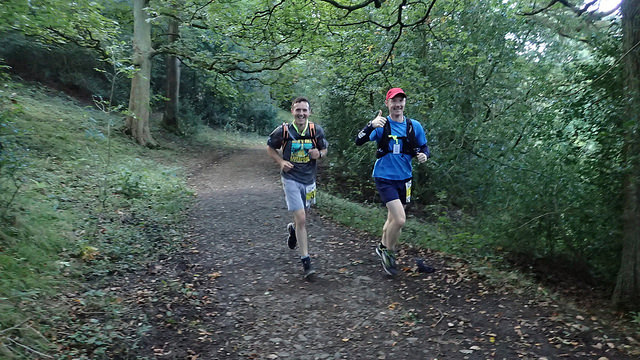 Runfurther standings
I've updated the Runfurther leaderboard with the HP40 results.  With 2 races to go, it's time to stick my neck out and predict who's likely to win what.
First to the men, where the fight is now on.  Andy Davies (Mercia) is currently leading, and has maximum points in two races.  He only scored 886 points in his only Long race though (the Fellsman), which means he could be caught.  Ken Sutor has only run two counters so far, but he's scored maximum points both times, so he could end up with the maximum of 4000 points if he wins Rotherham and Warrington.  Kevin Hoult could end up with 3937 points if he wins both races.  Ken and Kevin have entered both races, both are capable of winning them, and so far Andy has entered neither.  If he wants to win the Ultimate Direction race vest I think he's going to need to race them at Rotherham.  The only other runner who could theoretically catch Andy is David Greenwood, but he'd have to be very close to winning at both races, and he's not entered Warrington (which is full).  Second and third places look like being between these four, although Chris Davies, Adam Worrallo, Mick Dobson and Ned Lammas could come into the mix if Ken or Kevin doesn't show at one of the races.
In the MV50 class, Chris Davies is currently leading, but Martin Terry has a slightly better points per race score from his 3 races.  Martin's entered both remaining races, so will probably overhaul Chris.  Steve Stead may be 3rd, provided he runs OK at Rotherham, but my money's on Gary Upstone, who's only run 2 counters so far but has also entered both races.
Chris will of course be first MV60 again.  Glen Davies will probably be 2nd, although in theory I could catch him if I run my socks off at Rotherham.  Since I can hardly run round the block at the moment it looks unlikely.  And Bob Nash will once again be first (and only) MV70.
New member Huw Davies (Mercia) is the only one in the frame in the new under-25 category, as Mike Sellors and Barney Nikolich have been out for too much of the year with injuries.  Huw needs to finish one of the two remaining races to get his 4 counters.
And now for the women.  It's been clear for a while that Karen Nash would be first woman once again.  Second place is now Debbie Cooper's for the taking though – she just needs to keep up her form at Warrington and she's there.  Third is between Michelle Brooks and Alison Brind – Michelle's currently just ahead.  Neither has entered Rotherham yet, and neither has a place at Warrington, although Michelle is waitlisted.
Karen's first FV50 of course, and Alison will be 2nd.  Janet Hill will be 3rd, and will be first FV60.
As far as teams are concerned, last year's winners Calder Valley have been totally eclipsed this year by Mercia Fell Runners, who are in both 1st and 3rd places at the moment, with Trawden currently 2nd.  It wouldn't surprise me if Mercia end up first and second this year.
Andy's race report
My alarm went off at the ungodly hour of 4:20, and I got to Buxton at 6 to find the gates of the school locked and Bill Allan starting to get worried as the caretaker hadn't turned up to unlock the place.  He turned up eventually, and I got to work putting the Runfurther flags and banners up outside by the race finish.  I thought I was going to have to do it on my own, but Nick turned up to help – and to take photos of the race.  That was a relief to me, mainly because I'd thought we'd have no photos of the day, as Karen wasn't running this one either, after running at Brecon the precious weekend.  Registration started a bit late, due to the late opening of the school and problems with the computer software, but by 7:50 everyone was gathered in the park for the start.
It was cool in the park, shaded from the morning sun, a relief after the very warm weather we'd been having until a couple of days before, but the sky was blue, and I was pretty sure we were in for a fairly warm race, which proved to be the case.  Those of us running in t-shirt and shorts got it right, once we'd warmed up in the first fast mile out of town.  My personal expectations were low, due to back problems, old age and general lack of fitness.  It's a fast race, which doesn't really suit me.  Although I've finished it a few times, twice I've had to retire before the descent to Tideswell, having gone off too hard in the first half of the race.  I was just hoping that didn't happen again.  So I took it pretty easily to start with, up the hill out of town and over the ridge to drop down to the old railway track.  I ran along with Debbie Cooper and Daryl Bentley for a while, and at some point along the Goyt Valley Alwyn Nixon came past me.  He's a fellow MV60, and I'd finished just in front of him at Marlborough and Bradwell, but he'd never overtaken me before – not a good sign for me.  Debbie, Daryl and Alwyn all pulled away from me, and I never saw Daryl again until the finish.  Alwyn and I kept overtaking each other all the way to Castleton though, and Debbie was in sight for a lot longer.
I was a lot happier once we'd got off the valley paths and were climbing again, over to Cadster House and slanting up to Hilltop to join the road over Eccles Pike.  As road sections go, I quite like this one.  A quick stop at the checkpoint to take on water, and then down, down, down to cross the main road at New Smithy and slog up the access road to the Beet Farm checkpoint.  It's not a nice climb, going on for too long, but I wasn't taking it as fast as I usually have in the past, and we got there OK.  We walked up the last climb from the checkpoint, reaching the right turn onto the contouring track with a good deal of relief, as always.  I was still feeling pretty good, and enjoyed the company of Debbie and Alwyn along here.  We weren't really running together, but we were never far apart, and managed to chat a fair bit.
On the climb up over Rushop Edge and on to Mam Tor, Debbie left us for dead, and then Alwyn too started to pull away.  Another runner came up behind me on the way up, and we ran together on to Mam Tor, and we caught Alwyn up again shortly afterwards.  The three of us ran down to Castleton like mad things, and caught Debbie up again before the bottom – we all got to the checkpoint more or less together.  The next bit was the bit I was most worried about.  The climb up Cave Dale had been where I'd blown up twice before.  This time it went a lot better.  I left Alwyn behind here, and Debbie joined me near the top of the dale, and we ran the rest of the way to the next CP together.  Heading off down the road to Tideswell started well, but before the end I knew my legs were starting to go.  I had no choice but to slow down, and Debbie disappeared into the distance.  The rest of the race was slow disintegration.  Tideswell Dale was OK, but Miller's Dale down to Cressbrook felt so hard, even though it's a good track and downstream.  The climb up to the Monsal Trail was a brief relief, as I had an excuse to walk, but that was soon over, and then it was more flat stuff – I had to run along the old railway and then along the river, and it really was not easy to keep going.
At least I could legitimately walk up Deep Dale, without feeling guilty.  As I neared the checkpoint more runners were coming up behind me.  Now came the last long road section – the horror near the end of the race.  Somehow I managed to keep trotting all the way to Chelmorton, where my wheels came off altogether as soon as I left the tarmac.  The runners that had followed me up Deep Dale passed me here, after chasing me down for miles.  I'd had it.  I was forced to walk most of the way from here.  The descent into Deep Dale #2 was horrendous – my knees wouldn't bend to enable me to step down the steep sections, or cross the stiles.  I staggered back up the other side to the final checkpoint, and nearly fell backwards off the stile after the CP.  And all the time I was expecting Alwyn to appear behind me and overtake.  Whenever I looked behind me as a hobbled my way across the fields I could see someone in a blue top coming up behind me.  They kept coming past as well, but none of them were Alwyn, and I crawled to the finish without him coming past.  I collapsed full length on the grass and stayed there for some time.  Thanks Nick for bring me tea and a pasty!  A few minutes later Alwyn came in, claiming to have suffered in much the same way as me, but he was looking a lot better than I felt!  One more HP40 completed, and they never get easier.  An hour slower than 2014, but still not a personal worst, as the HP40 was my first ever ultra, and my slowest time was that first one, in just under 9 hours.