The weather at the Hobble was pretty good this year, and I think most people really enjoyed themselves – I know I did.  It was warm enough for shorts, there was little wind and no rain.  It was still a bit muddy of course, but not nearly as bad as it could have been.  As always there were a lot of very strong runners – this is a difficult race to win high Runfurther point scores in!
We handed out plenty of Romney's Kendal Mint Cake at registration, and there were prizes from Pete Bland Sports, Injinji and Ultimate Direction given out later, along with the bottles of wine supplied by race organiser Brett.  Many thanks to Brett for his generous donation to Runfurther as well.
I've updated the results spreadsheet for 2016, complete with the new Under-25 category, although there were no under-25 Runfurther members at the Hobble – they were out injured!  Here are the Hobble results.
Ian Symington and Ken Sutor ran as a team and came in first in 4:16:01 – good lads!  They're running abroad later in the year as a team so wanted to get some practice in.  Both of them are strong contenders to win the Runfurther trophy this year.  Kevin Hoult was 3rd in 4:22:38.  First woman was Lucy Colquhoun in 5:10:14, 2nd was Lina Mardall of Deeside (5:25:42), who was running in a pair with Alan Smith.  3rd woman was Josie Greenhalgh of Horwich RMI Harriers, just behind Lina in 5:27:15.  I took 5:37:45, which was my fastest since 2012, so I was happy with that.
Karen Nash, Nigel Aston and Brian Stallwood (Stolly) have all written up their experiences of the day – just click on the name to get linked to their reports.  Karen was in a serious amount of pain with her foot, but she still wouldn't let me beat her.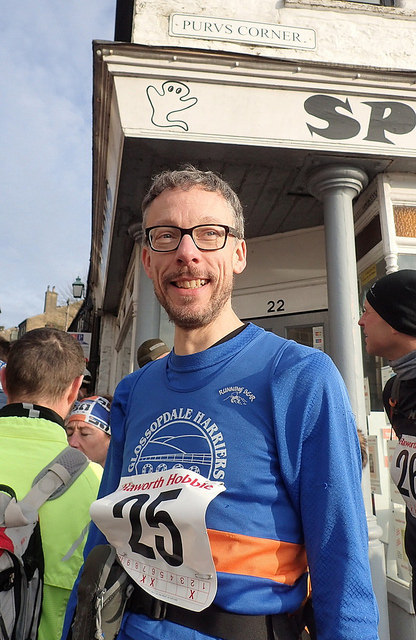 Quite a few photos were taken on the day.  Nick Ham was wielding his camera on the way round as usual.  Quite why he persuaded someone to take the photo above I'm not sure, and perhaps we'd better not enquire…  He took the photos I've borrowed for this webpage.
Mike Sellors took a load of photos, and he's posted them to the Runfurther Facebook page, so you'll have to scroll down that to find them (three sets).  I've no idea how to link to them directly.
Scott Leach was out taking photos, and they're on Facebook too.  You can find them here and here.  He's been doing this to raise money for blood cancer charity Bloodwise, so please give generously:  his Justgiving page for making donations is here.
Lastly (so far) SportSunday were also out taking photos, so check theirs out too.
The next 9 races in the Championship are already open for entries.  That only leaves Rotherham (which should open for entries shortly) and Warrington, which opens for entries on 1 April.  Usually Rotherham doesn't run out of places quickly if at all, but the Warrington Way Ultra may fill very quickly, so if you want to run you should be ready to get your entry in as soon as they open for business – the other two ultras in Cheshire both filled up in no time this year.
Next race is the Calderdale Hike on 9 April, with the Fellsman just a week later.  See you there!