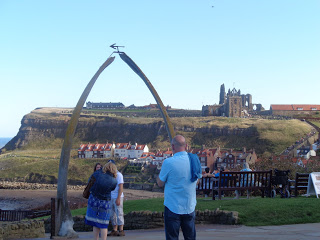 A beautiful sunny September day made the Hardmoors 60 a delightful experience.  Until some of us ran out of steam, that is.  There are a lot of ups and downs running along that coast, and I for one wasn't up to the task and pulled out half way through.  Plenty of others were fitter than me though, and the first three home came in within a few minutes of each other, having battled it out the whole way.  First in was Martin Murray, last year's winner, in 10:03:50, second was Ian Symington, the record holder from 2012, in 10:10:05, and third was Steven Lord, a couple of minutes behind Ian.  Great running, but the first home was nearly 40 minutes outside the record, which wasn't surprising given it was such a hot day.  What was the running performance of the day, though, was Kim England's 4th place overall in an amazing time of 10:35:50.  This broke the women's record by over half an hour and was an astonishing run given the conditions.  Shelli Gordon and Heather Mochrie, both first women home in previous races, were joint second this year, nearly an hour behind Kim.
First MV50 was Martin Terry in 11:09:14, and first FV50 Karen Nash once again, in 14:06:55.  The full race results are here.  Karen's blog with photos is here – I borrowed some of her photos for this post.  Sport Sunday were taking photos too, and you can find them here.
The runner of the day award has to go to Dennis Potton, however, rather than any of the above.  Alerted to a child in trouble in the sea at Sandsend, just north of Whitby, he jumped in, rescued the child from drowning in the undertow, bought new running clothes in Whitby to replace those wrecked in the rescue, then finished the race.  Hats off!
Runfurther standings
The updated Runfurther leaderboard is here.
Ken Sutor had entered the Hardmoors 60, but didn't show up.  Ian Symington did though, and his 990 points from his 2nd place has put him in a very strong position.  Ken can only beat him if he wins both at the Isle of Man and at Jedburgh, or comes very close to winning.  He's entered Jedburgh, but I've no idea whether he's going to the Isle of Man.  Stewart Bellamy looks safe for either 2nd or 3rd, depending on whether Ken runs the last two races.  Martin Terry looks safe as first MV50, provided he runs at Jedburgh at his usual high standard.
Karen Nash can't be caught now, and will be first woman, and first FV50.  Mary Gillie looks safe as second woman.  The MV60 anbd FV60 titles are settled too: Chris Davies and Janet Hill won't be caught now.  Ian Symington's performance has put Calder Valley Fell Runners at the top of the team competition, and there's every chance they'll stay there now.
Both this year's Grand Slam contenders were struggling with injuries for the whole 60 miles, so congratulations to both of them for finishing.  David Wilson had his shin splints bandaged up, and Karen Nash has a list of injuries as long as your arm.  Only two more races to go!  Here's a photo of the two of them at the race, courtesy of Karen: