The Pennine 39 results aren't up on the Nav4 site yet, as I write this, but Joe's sent them to us, so here they are:
| | | | | | | |
| --- | --- | --- | --- | --- | --- | --- |
| 1 | 39 | Ken Sutor | Male | 46 | MV40 | 05:31 |
| 2 | 12 | Stuart Fludger | Male | 46 | MV40 | 06:32 |
| 3 | 27 | Karen Nash | Female | 58 | FV50 | 07:00 |
| 4 | 33 | Steve Rivers | Male | 50 | MV50 | 07:10 |
| 5 | 46 | Colin Williams | Male | 55 | MV50 | 07:20 |
| 6 | 6 | Ian Challans | Male | 38 | M | 07:21 |
| 7 | 40 | Chris Timms | Male | 38 | M | 07:22 |
| 8 | 35 | Chris Sandison | Male | 47 | MV40 | 07:24 |
| 9 | 31 | David Owen | Male | 44 | MV40 | 07:28 |
| 10 | 30 | Geoff Osbaldestin | Male | 46 | MV40 | 07:39 |
| 11 | 20 | Ben Holmes | Male | 37 | M | 07:45 |
| 12 | 18 | Charles Hazlerigg | Male | 34 | M | 07:48 |
| 13 | 38 | Peter Sowerby | Male | 57 | MV50 | 07:58 |
| 14 | 44 | David Ward | Male | 46 | MV40 | 08:04 |
| 15 | 1 | Jason Allen | Male | 47 | MV40 | 08:06 |
| 16 | 34 | Neil Robinson | Male | 48 | MV40 | 08:06 |
| 17 | 3 | Rick Ansell | Male | 59 | MV50 | 08:41 |
| 18 | 13 | Katie Godfrey | Female | 27 | F | 08:44 |
| 19 | 22 | Mohammed Sharif Jallad | Male | 27 | M | 08:47 |
| 20 | 45 | Neil Wilkes | Male | 43 | MV40 | 08:49 |
| 21 | 2 | Simon Andreassen | Male | 52 | MV50 | 08:57 |
| 22 | 4 | Kim Ashworth | Female | 29 | F | 09:06 |
| 23 | 15 | Louise Greenwood | Female | 49 | FV40 | 09:06 |
| 24 | 50 | Jenny Wyles | Female | 54 | FV50 | 09:07 |
| 25 | 51 | Ken Wyles | Male | 60 | MV60 | 09:07 |
| 26 | 5 | Paul Booth | Male | 43 | MV40 | 09:13 |
| 27 | 9 | Owain Davies | Male | 37 | M | 09:14 |
| 28 | 23 | Rosie Jones | Female | 39 | F | 09:14 |
| 29 | 17 | Nick Ham | Male | 55 | MV50 | 09:27 |
| 30 | 42 | Gareth Tosh | Male | 57 | MV50 | 09:32 |
| 31 | 7 | Michael Cottam | Male | 56 | MV50 | 09:35 |
| 32 | 8 | Richard Craig | Male | 43 | MV40 | 09:46 |
| 33 | 11 | John Figiel | Male | 53 | MV50 | 09:54 |
| 34 | 19 | Janet Hill | Female | 64 | FV60 | 10:11 |
| 35 | 29 | Sara Ordway | Female | 39 | F | 10:38 |
| 36 | 41 | Nicky Torr | Female | 45 | FV40 | 11:04 |
| 37 | 49 | David Wyatt | Male | 46 | MV40 | 11:04 |
| 38 | 24 | Debbie McCart | Female | 57 | FV50 | 11:27 |
| 39 | 25 | Mel McCart | Male | 58 | MV50 | 11:27 |
| 40 | 36 | Richard Scroop | Male | 72 | MV70 | 11:39 |
| 41 | 28 | Robert Nash | Male | 75 | MV70 | 12:03 |
| 42 | 43 | John Vernon | Male | 68 | MV60 | 12:03 |
| 43 | 14 | Julie Graham | Female | 50 | FV50 | 13:05 |
| 44 | 26 | Elise Milnes | Female | 59 | FV50 | 13:05 |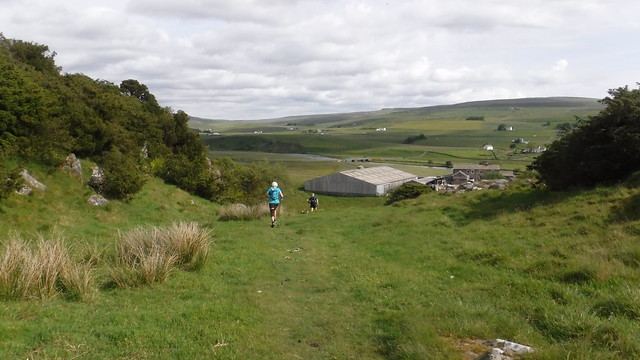 Ken Sutor won again, a few minutes slower than last year.  Karen Nash was first woman again, a few minutes faster than last year.  I suspect Ken may have been a bit slower this year because he didn't have Rory Harris hard on his heels this time.  Stuart Fludger was 2nd, an hour behind Ken, and Karen finished 3rd, half an hour behind Stuart, in 7 hours dead.  Once more it was a select field turning out for this great race, with only 44 finishers.  I suspect it's the remote location that keeps the numbers down.
Karen's race report is up on her blog, and as usual I have copied it here too (see below).  Nick was there this time, and his photos are up on his Flickr site.  The photos here are his as well, apart from the top one.
Good to see Ken running well, and if he runs more Runfurther races he could be challenging Rory for the 2019 Runfurther title.  The same goes for Karen.  Although she's a slower runner than Sabrina (who's beaten Karen three times this year), she could well end up with four 1000-point counters again this year, if she keeps up her good form.  There are still three Long races to go, and if she's first woman in two of them, she'll have the maximum 4000 points again.  Sabrina can only match that by being first woman in the Dig Deep 30 in September.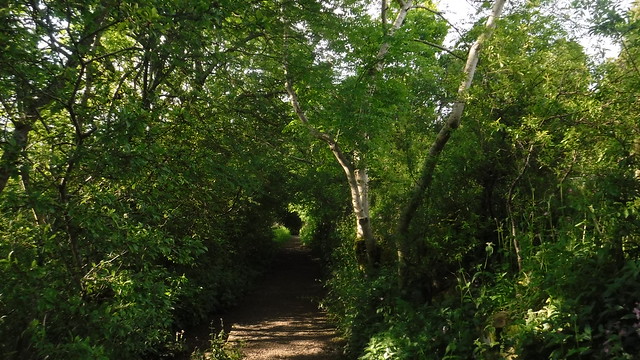 Karen's race report
Nav4 Pennine 39 (a race or a social weekend)
Actually it was both, but no surprises there really. I love Nav4 events- always great scenery, interesting route, superb CPs and post race food and loads of lovely people.
Our weekend started early on Friday with a rapid drive to Romneys in Kendal to collect mint cake for Runfurther.
Mint cake for all the remaining Runfurther races
Then it was a dash back to Hutton Roof to climb. The forecast had promised warmth and some sun but the reality was cool, breezy and some sun. Off came the shorts and one went the long tights and a few more top layers.
Spot the continent
Still we managed 10 climbs on the little crags and it let me practice placing trad gear again and getting some faith that the gear would actually hold me if it had to. By late afternoon we were driving to Keswick for our second collection of the weekend.
Eco new bags for Mountain Fuel
This time Mountain Fuel from Rupert. With the van loaded up we then drove to Alston, ignoring the road closed signs when we spotted cars travelling in both directions high up on the fellside. By 7pm all the flags and banners plus display boards were up and spot prizes displayed.
Alston YHA- what a great venue
After a quick meal in the van we joined Dick, Nick and John in the pub for a brief committee meeting.
It was a fairly leisurely start and plenty of time to be ready for the bus to the start at 8am. As I stood in the sunshine it was already warm, although not as hot as last year. Ken Sutor was running so the means Runfurther point would take a hammering but I wasn't sure about the women. There were some I did not know and I 'worried' over whether they were fast. This was the fourth running of the race and I have done it every year. The first year we raced down the little field to the gates and over the bridge, then the next year we walked slowly and carefully across the failing bridge and last year we took a long detour walk to reach the other side. This year some paths were closed due to filming but at 9am on Saturday it was deserted. We were able to revert to the original start from just off the road. Race briefing was quiet and quick. We were off. I charged the first field to make sure I didn't get stuck at the gates or the bridge – plenty of time to slow down a little on the riverside path.
The first stretch on the Pennine Way follows the river and you get glimpses of the waterfalls, including the spectacular High Force. The path is very runnable with just a few trip hazards. It then crosses pleasant farmland to the first bridge over the Tees before hugging the riverside below cliffs of Falcon Crags most of the way to Cauldron Snout.
Cauldron Snout
This section is scattered with rocks and most have been worn smooth by the river of millions of feet on the PW. Time to slow down and take care. As it tumbles down from Cow Green reservoir and over Whin Sill the flow is always impressive. It was all constructed as the outflow to take water down the Tees without the expense and ugliness of a pipe. A short scramble up the rocks and we were at CP1.
Ros at CP1
I was on my own. I could see a bright green vest ahead and knew that in front of that were Ken and Ilkley man. Behind me I could see orange vest but not much else. I couldn't see any women but maybe they were running a cautious race with a speedy second half.  Before long I ceased worrying and just enjoyed the day. Running alone I kept a steady and more sustainable pace than sometimes. I was really having fun. Even the track to Birkdale and beyond didn't seem so bad and I amused myself with memories from exactly a month ago when I was running the opposite direction in the dark and the rain during the Hadrian 100. After the pull up to 600m or so you get the lovely reward of turning off the vehicle track and running on grass. Happy feet again. I love this section towards the bridge over Maize Beck and the stunning High Cup Nick and even before you get there the views are lovely. The area is so quiet compared to the Lakes and the bird life is brilliant. I made good time to the Nick and although I didn't stop I did soak in the views as I concentrated on staying ahead of orange shirt man. The next section is a rapid 400m plunge down to Dufton with views into the Lake District. It starts on grass but even once you reach the track there is plenty of grass verge. By now there were a number of walkers heading up the hill and most were congratulating us. I resisted the temptation to steal the post van that had been left idling at the top of the lane and knew I could be at the CP slightly ahead of schedule. Lins and Mel were in charge. My water bottle was taken and refilled- I added more Mountain Fuel powder and grabbed melon, tomatoes, crisps and cheese. I love real food at CP. I set off at a slow jog munching cheese and tomatoes. As I was leaving orange shirt man was just arriving.
The next climb to Knock Old Man is a beat all the way up to 794m. It was warm and steamy but not as hot as last year. The streams all had more water in than I remember so I was able to refill my bottle easily. I could see the green vest ahead struggling and decided to reel him in. No running just a steady and determined plod. Then I could see another runner further up and so I targeted them too. It made the climb go faster and nobody was actually catching me yet. After the cairn the plateau is fairly runnable and then downhill to meet the radar station road. There are at least 3 route options here. The guy ahead stuck to the road and didn't turn off. That was the last I saw of him. Orange vest (Steve Rivers) was keeping an eye on me and followed. Go to snow pole 71, cut up the re-entrant, meet the wooden steps and contour the main hill. What follows is a lovely roller coaster down from Great Dun Fell, up over Little Dun Fell, down the other side and finally up Cross Fell. At 893m this is the highest point on the route. I tried to pull ahead to keep my trod a secret but Steve spotted me and followed. It's nice and grassy, only a little boggy and cuts the corner slightly too. Someone had already been down it, I guessed it would be Ken.
Greg's Hut
Arriving at Greg's Hut I was greeted by Little Dave.
Nick at the hut
He was well bundled up in clothes so it must have been chilly stood about even though I was only running in shorts and T shirt.
Dave with water? (Pipe?)
We had a brief chat as I filled my bottle at the pipe and moaned about the 'new' yellow brick road that had been created.
Others at the pipe
The track down to Garrigill is about 6 miles or so and it goes on a bit. It also is definitely not all downhill!
The Yellow Brick Road
Somewhere along this Steve caught me up. It was good as we made each other run more than if we had been alone. A supporter walking up assured me that I would not be caught by another woman so that was good. Now it was just my race and perhaps an attempt to get a PB. A MF jelly perked me up and although I thought Steve had arrived strong I suddenly realised that I was alone again. I used the verge where I could to save my feet and the new hardcore on the road was better than I had feared. Thanks to the steam-roller guys who had done a good job. Garrigill appeared and I forced myself to keep running most of the way to the CP.
CP at Garrigill- nearly back home
Again the food was laid out and I knew I had to stop. Ignoring the food and a cup of tea would save 2-3 mins but I might run out of energy on the final river path. Stopping and eating would make dipping under 7hrs a big ask. I stopped. It is meant to be fun after all. Under 4 miles to go and despite the stiles mostly nice running. I knew the way and ticked off the landmarks in my head. First the footbridge, then the dink up right at the farm then the little bridge over a side stream and finally the start of the woods which mean you are almost back. I had set my watch early when Joe was doing his race brief and so could not be sure of my time. I ran fast, even up the final steps. 7 hours exactly. Bang on the time of last year. It would have been nice to get 6hrs….. but apart from the usual pain in my right foot I felt good. My legs were not really tired and I had not actually been pressured or racing people. Strange that just running at a steady pace got me the same time.
Top positions
Ken of course was already back and had won in 5hrs 31.
Stuart Fludger was an hour later and I was less than 30 mins after that. More a reflection on there not being many fast men on the day but I would get my 1000 Runfurther points. Steve came in 10 mins later followed by Colin, Ian and Chris. I had run with Chris last weekend and shown him the way several times. Today without me he had missed turning off the PW in Dufton to reach the CP but phoned Joe to let him know.
Lovely pressie
Joe presented me with my photobook and hoody- some lovely memories of all the days out and friends I have made over the last decade running ultras. It was a good opportunity to get a few more friends to sign the card.
So many memories
Nav4 carrot and corriander soup was wonderful and allowed me to recover enough to go for a shower. Refreshed from that I came down for more soup, bread, cake, tea, crisps…. yep love eating after an ultra.Others were having a tough day.
Nick was slower than last year but happy to have been able to complete after an op and recovery. Dick, Bob and John seemed to be taking forever.  I ate a bowl of Joe's chilli as I waited.
They were now last though as Elise and Jules had ambled round stunned by what was to them new scenery and taking lots of photos.
Joe had given beer tokens so once I had made sure that Bob was very tired but sort of OK we went to the pub. When I returned to the YHA Bob had already walked back to the van and bed.
A leisurely and breakfast of several parts on Sunday set us up for taking down all the flags etc and the drive home. The plan had been to go climbing again but Bob was knackered and his leg sore and I seem to have damage the shin on my left leg, although on the plus side the ankle seems to have fixed itself.