Well the weather was hot, & it's just been getting hotter ever since.  The race results are up on the Run Walk Crawl website.  There were 26 finishers in the 100, and 34 in the 50.  Matt Tomlinson won the 100 in 23:28:20, just beating Karen Nash by a whisker.  OK, he beat her by more than 3 1/2 hours (27:04:11), but she still came in second!  Third was Otto Karhunen in 27:29:00.  First in the 50 was Jacob Hayes in 9:14:34, with again a woman second:  Katie Mills in 10:39:43.  Third was Tom Stenning in 10:56:29.
The Runfurther leaderboard has been updated, and that's here.  Karen is going to take some catching now, as she got 1000 points in the 100.  Nick Ham ran the 50, and his photos are up on Flickr here.  As usual I've borrowed some.  Karen's written her race up, and that's on her blog, but I've also copied it here (see below).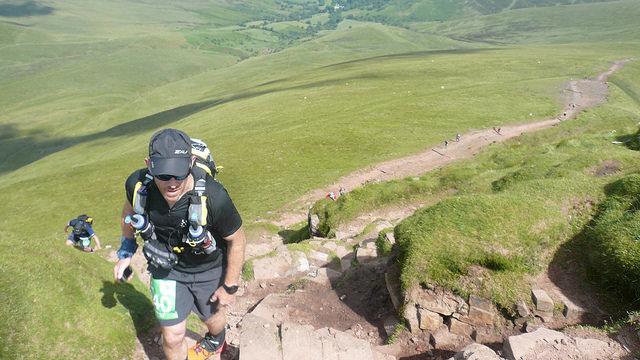 Karen's race report
I did this race last year and so knew more or less what to expect. There were some route changes and a major change of start for the SW50 which Bob was doing. The Llanbradach forest section was gone and all the loop after it to be replaced by a very stony track and then tarmac down into Caerphilly. I would have preferred some tapes to aid nav as I did get seriously lost and bracken bound last year but then liked the loop after the CP. Caerphilly castle was beautiful though. Last year although I had receed some parts I was also very reliant on others at times and we made some serious errors in the dark, wet and clag which I was keen to omit this year.
Chatting and nervous (Nick Ham)
On Wednesday afternoon I ran the section W of the Storey Arms slowly as an out and back. I should know this section from the Brecon Beacons 10 peaks a couple of years ago but was not sure. it was only about 7 miles. On Thursday I ran from Taff Wells almost to CP3 but dropped off the tops eastwards to Clydach Vale. This made it shorter but there was some jungle warfare and it turned out to be about 22 miles. Not ideal on the day before the race but I did give me lots of confidence about the route. The pathless route off Mynydd y Gaer seemed so obvious in daylight and the first turbine area was very straight forward. Llantrisant forest was worth checking on although a dog attack left me bleeding. My memory of Ogmore forest onwards was a real blur so doing this in daylight was very helpful and I was confident I could find my way through the dreaded turbines and across to the final forest edge. Ironically I made two errors in the race just after this but neither were serious. Friday was very lazy apart from putting up all the flags and banners for Runfurther but this was no hardship in the warmth and sun. I had registered by 2pm and went back to the van for shade and a lie down. There was no real chance of sleep but the 7pm start was awkward and I wanted to rest.
and we are off (Nick Ham)
On the dot of 7pm we were off. It was still hot but I had opted for 3/4 tights in case it got cold at night (it didn't). There was the inevitable charge across the rugby fields to the cycle track although I did try to hold back a little. From Castle Coch onwards was quite funny as Tom and others kept racing off and then being shouted back by me as they went wrong. Between CP2 and 3 there were about 8 of us sort of in a group but all doing our own thing. Last year we needed torches as we entered Llantrisant forest so it was great this year to have cloudless skies and a full moon which meant we didn't need torches until CP2. CP2 was outside and I didn't stop long except to refill my drinks bottle and to grab some jaffa cakes and coke. The next section went well although a bit slower in the dark on the narrow path by the river. I was glad to reach CP3 which is inside and had real food. Refuelled by soup, bread, cake and custard we set off up the dreaded climb. Chatting with John Yuill made the time pass quickly and Tom was still with us and chatting too. Again there was an indoor CP at Hirwaun so more real food.  The next section is much flatter and the boys were soon pulling ahead, until they took an alternative route and I gained the distance back again. From Penderyn we stayed together and jointly sorted the nav across to the wonderful Sgwd yr Elra waterfall. The others had not really been expecting this and were amazed as the route took us behind the curtain of water. By now I had expected to have caught up Brian who started as a walker 4 hours before us. He must be having a great run.  John, Tom and I stayed together to the next CP in Ystradfellte. As we left the rivers behind the dawn was well on its way and we met the photographers coming out (still too dark for them tho).
This CP was a chance to get our drop bags. I was determined to eat well before setting out again. I took time to restock my food and water bottles. Mountain Fuel extreme energy was going down well and I had managed to eat some of my snacks. I drank chocolate milk and ate a dehydrated porridge meal plus a few little snacks. It was possibly too much too fast as I felt a bit ugh for the next few miles. I also used the power block from my drop bag to put my torch on charge.Brian appeared before we left he had turned downhill and discovered a second waterfall and lost 30 mins or so.
John and Tom overtook me on the lanes but the new day lifted my spirits, the food settled and my power walking soon reeled them back in. We were together again over Fan Llia, down to Sarn Helen Roman road and then up to Fan Frynych. It seemed a cruel route compared to last year with extra drops and climbs plus the horrid stones on the Roman road. I pulled ahead to the CP on the A470 and left before them. From there I was on my own over the most beautiful and wonderful part of the whole route. The CP were not entirely happy when I refused extra water but one bottle saw me though the Brecon Beacons fine.
Steep hills in the Beacons (Nick Ham)
I loved the peaks of Corn Du, pen y Fa, Cribyn, Fan y Big and the wonderful scarp edges and views. It was early enough to beat most of the crowds but already there was evidence of at least 3 other events in the area.
Beautiful edges, love this (Nick Ham)
I bet it got crowded later. Running round the rim got very hot and I did have a moment of doubt thinking I had missed the path off to Carn Pica.
Peace and quiet (unknown supporter)
There is a new gravel path now not just the boggy route through the peat hags so missing it was really not likely.
All on my own
The CP at Talybont was in the sun and a bit sparse so I drank coke, ate and orange, topped up my water and set off for Tor y Foel. As I got to the tricky nav descent to the river the first SW50 runner came by. Sadly he shot ahead and I lost the path. I hacked up through bracken and was only 50m from the stile over the wall onto the open fell. The next part to Trefil was easy apart from the heat. Several SW50 runners were now catching me up, including David Wilson so I was able to ask if any SW100 runners were catching me. We sat in the corridor in the shade and a cool breeze, heaven.  I managed to eat pineapple, soup, baby bel and then to the shock of the CP lady I drank a small box of custard from my drop bag. I ran to Parc Bryn Bach with SW50 runners  although they shot ahead after Rhymney Hill and onto the next self clip on the summit. I caught one Dom? and we negotiated the thick bracken down to New Tredegar where a Iced Calypo went down a treat.
Yep several paths like this (Nick Ham)
The bracken on the next paths was even worse en route to the Bargoed CP. David caught me up again here and then that was the last I saw of him. I was solo for the next bit and lack of sleep etc led me to a serious error in the fields above Penalta Park. I persuaded myself it was fine so by the time I stopped running several fields later I was well lost. In the end I sorted it but still missed the opening by a gate. I reached the Parc by a different route, negotiated the parc and was so so pleased to hit the correct path and meet a runner. I could have hugged her. Thanks Emma.
The rest was easy- up a rather steep lane and onto a rough stone track. Also some of the worst fly tipping I have ever seen on a race (much worse than even the rough bits of Rotherham). The stones hurt my feet and I almost wished we were going into Llanbradach forest. The tarmac descent to Caerphilly was not as bad as expected and the CP near the castle was good. I was struggling to eat but Emma's support had melon which was great.
Caerphilly (Nick Ham)
I left knowing the end was in sight and that I was likely to stay second overall. I had been in that position since before the Storey Arms but was convinced somebody would catch me, especially when I got lost. Emma shot ahead and Ben and Dom were just behind. I was alone over Caerphilly Mountain and the final clip on Craig y Allt but the men caught me as we dropped to the Taff Trail. They were certainly faster on the flat but had not expected the steady pull up to Castle Coch woods. My power walking came to the rescue again. From there we dropped to civilisation and the final cycle track along the river. It was now getting dark but the way was easy despite a few bikes with no lights. At one point I made an effort to beat 10pm and then it was just too much. It really wasn't important. 10.04pm was fine. 1st female, 2nd overall and almost 5hrs 30 faster than last year.
I spent about an hour chatting and eating soup but before 11 I was ready for bed. I couldn't face the rigmarole of a shower so had a strip was in the van and fell into bed. It took ages to get to sleep and by midnight I was up for a feast of chocolate milk. Bob arrived back from his SW50 also with a PB. It woke me enough to chat for a bit but I was now very tired and fell asleep easily.
Another good run (Nick Ham)
Sunday was still roasting hot. We showered, ate, cheered runners in, took banners down and had the final prize giving. Not a bad mini holiday to sunny South Wales. I will add more photos once the official ones are uploaded.