The results are up on the Go Beyond website.  Despite what must have been a very hot day, Andrew Siggers of Kenilworth Runners lowered the race record by 13 minutes, finishing in the amazing time of 3:59:29.  That meant Runfurther points were hard to come by for the handful of male members who ventured down for the race.  Second was Stephen Marks (Rugby & Northampton AC), winner in 2016, in 4:23:18, and Ed Fisher was 3rd in 4:31:11.  First woman was Julie Pickering (Mornington Chasers) in 5:29:54, 2nd was Rachel Dench in 5:50:57, and 3rd Sarah Challans (Lincoln & District Runners) in 6:00:03.  There were 164 finishers, and a relatively high number of DNFs: 14.  That was probably down to the weather.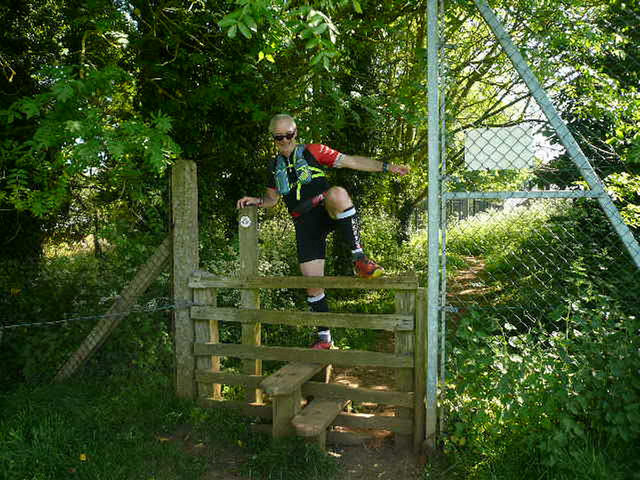 No Karen again for this race, so no race report from her.  Nick Ham has found the time between his global voyages to write something, & that's at the bottom of this post.  It's taken some time to get up on the website as he's been away, & I've been away too.  Nick's photos are up on his Flickr page here.  As usual I've borrowed some for this post.  The Runfurther leaderboard has been updated, but hasn't changed much.  David Chetta still heads up the men's side, but as he didn't run the Northants Ultra that means there will be no Runfurther Grand Slams in 2018.
Nick Ham's race report
I rocked up at Lamport Hall nice and early on Sunday to meet Dick and put up the flags and banners. The dew-soaked long grass soaked our shoes as usual but the sun was already hot at 7am. After getting registered and getting the Runfurther display boards erected (they needed a lot of TLC / repairs before that could be done) it was time to make our way towards the starting pen for final instructions. I had a brief chat with Rory Harris. That would be the last I would see of him.
I set off conservatively at a speed that felt slower than ever before. After running a trail 5k on the preceding Wednesday, a 3-mile fell race on the Friday and the tough Mount Famine 5-mile AS fell race on the Saturday and getting comprehensive Personal Worsts at all of them, I was expecting another PW today. I would just enjoy the day, and what a day: cloudless blue skies, little breeze, spectacular views across lush rolling gentleness. Sun cream had been slathered on and peaked cap was rotated for sun protection.
We wended our way around the anticlockwise route via checkpoints at Cottesbrooke, Naseby, West Haddon (nr), Althorp and Teeton while fuelling ourselves on GU energy gels and Go Beyond fruit cake from the aid stations. After runners' early enthusiasm, the heat soon began to take effect and everyone settled back into a survival strategy. The new footpath to the relocated CP3 was taken thanks to another runner spying the checkpoint flag in the distance to our left.
I usually slow down after CP3 but this time the heat and my hydration strategy seemed to play to my strengths (thanks to High 5 Zero). I was still running and feeling relatively strong. I became the one doing the overtaking, passing those who had passed me earlier. As well as others' suffering in the heat, there were the usual flounderings off-route. A runner came steaming past on the long road out of Long Buckby before CP4. His speed suggested considerable eliteness. "He must have gone seriously wrong", I thought to myself.
After the early crowds it had been strangely lonely since CP3, with the speedy ones in front and the suffering ones behind. After CP4 I usually pick up because I feel as if I'm on the homeward leg. This year was no different. Despite my 'speed' and overtaking manoeuvres, just like last year I was still caught by the juggling runner before CP5. Tim Butler with his tiger mask juggles 3 balls as he runs. He's raising money for the Zoological Society of London for tiger conservation.
I left CP5 before Tim for the final 10k to the finish. Shortly afterwards, Tim came steaming past like a man possessed, leaving all in his wake of dust. He told me afterwards that his switch had been flipped by the consumption of his customary double espresso energy get at the final checkpoint. With the help of a Roctane GU gel I managed to keep my shuffle going for a 6:56:40 finish, 6 minutes behind Tim. It was far from PW too. RESULT!
Winner Andrew Siggers smashed the course record with his 3:59:29. Fastest woman and 17th overall was Julie Pickering in 5:29:54. Rory had finished 5th in 4:39:14. I was enjoying a post-race leg massage when I heard the announcer call out the arrival of Dick, 2nd MV70 in a time of 8:25:22. Brilliant. There were 14 retirements, which is higher than usual. The sun was intense out there.
After the last runners had finished and beaten the 9-hour cut-off, it was time to pack away the flags, banners, boards and merchandise and wend our merry ways with memories of a glorious day and a race that's always so enjoyable. Thanks go to Go Beyond.