The Race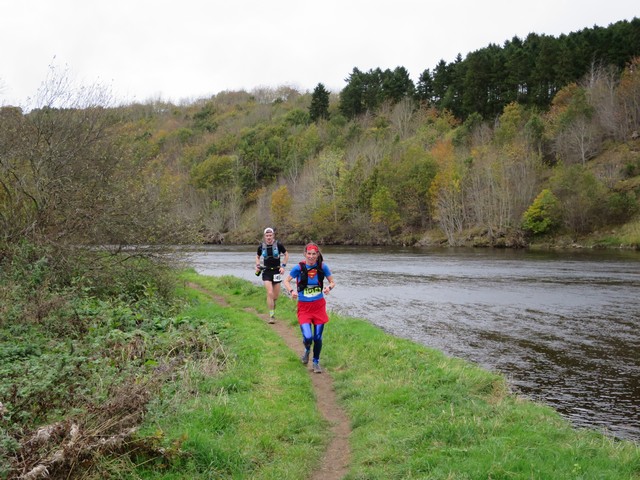 Well I wasn't running, but I was there, due to coincidence (see below).  That meant I could take photos of a lot of the runners, which are all further down in this post.  Nick Ham was taking photos as well, and his are all on Flickr here.  The day before had been a lovely sunny day, but race day was cloudy, & a bit breezy – in Jedburgh at least.  It was muddy underfoot, but stayed warm and dry all day.  Or, rather, it stayed warm for most of the day.  Things changed a bit for the runners once they hit the Eildon Hills though, with very strong winds that gave trouble to some of the more exhausted runners.  Still, they were soon down again, & on their way back.  Fancy dress was rampant, although there was no Mr Blobby costume.
Race results are on the race website here.  First home was John Hammond in 5:09:48, 2nd was Dave Ward in 5:15:26, & 3rd was past Runfurther champion Ian Symington in 5:19:31.  7th was Nicola Duncan (above) in a great new women's record time of 5:41:54.  Anna Gilmore was 2nd woman in 6:15:21, 18th overall, and 3rd was Alicia Lauckner in 6:46:22.
Runfurther results
The updated Runfurther leaderboard is here.  Apologies if this appears rushed, as I'm processing the Jedburgh results & getting this update done on the morning of the White Rose Ultra and the AGM.  Debbie Cooper finished at Jedburgh, so looks to have settled 2nd place in the women's competition.  Ian Symington finished 3rd, which means Calder Valley Fell Runners have gone to the top of the team table.  Both Nick Ham and Bob Nash finished safely, so are still on track for slams.  Nick dressed for the occasion…
…and the rest will have to wait until after today's race.  My money's on Ken Sutor beating Kevin Hoult, since he's beaten him twice already this year.  On the other hand, Ken doesn't always turn up to races he's entered, and Kevin generally does…
The Walker's Tale
I've not been running this year (apart from a handful of short training runs and the Long Tour of Bradwell I've done nothing).  There are two reasons for that.  One was that I ran myself into the ground last year, trying to do too much.  I ended up with legs that wouldn't support me properly on rough ground, & being close to passing out while running a couple of times. That on its own was enough to force me to take a rest.  Then I already knew I would be busy this year working on walking guidebooks.  I'm working on an updated edition of "The End to End Trail" – a guidebook for walkng from Land's End to John O'Groats – and also a guide to a new long distance path from Inverness to John O'Groats – the John O'Groats Trail.  This means walking over 1000 miles, taking copious notes, making maps & writing everything up.  I've been trying to get it all finished by the end of 2017, but I'm not going to manage it.  Anyway, I've had to grab every chance to get away & walk parts of the route.  I can't take my dog with me on multi-day trips, as he can only manage occasional long days.  That means I can only get away in the school holidays.  I had one long section left to do, from the England/Scotland border at Byrness to Milngavie north of Glasgow: 7 days' walking.  I had only one opportunity to fit that in to 2017, and that was my daughter's half term holiday, 9 days long.  So, with a day at each end for travel that meant walking from Jedburgh to Melrose on the day of the Jedburgh Ultra, along the route of the race.
I walked from Byrness to Jedburgh the day before the race, bumped into Nick Ham in the street, & we went to the Belters Bar for our tea.  Next morning I had breakfast as early as my B&B would cook it, & set off just in time to see the race start.  I then plodded on, and was chatting to a couple of visitors by Mertoun Bridge when John Hammond ran past, on his way back, shortly followed by Dave Ward & Ian Symington.  I got my camera out then, & started taking photos of the runners coming towards me as I walked along.  Some I missed…
Anyway, I snapped most runners in the first half of the race, then I started worrying about my camera battery, as I needed to take photos all week for the book.  So, sorry to those I missed.  I passed the tailenders on the way up the Eildons from Bowden.  The wind had dropped a bit by the time I got up there, and I didn't visit the tops anyway: my route crossed the col & went down to Melrose.  Here's the complete set of photos anyway:
And after the race went by I walked another 100 miles or so, then got the train home just in time to write this up & head off to get the White Rose results & process them ready for the prizegiving. I hope…