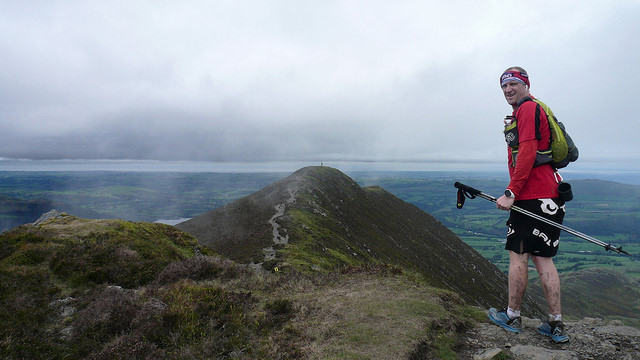 The preamble
Apologies for the delay in posting these results.  While you were running the Grand Tour of Skiddaw I was walking the Across Wales Walk, which is about the same distance, 45 miles from the Welsh/English border near Clun in Shropshire to the coast near Aberystwyth.  The next day I drove up to Scotland to do the final route revisions for the new edition of The End To End Trail (available in all good outdoor shops at some future date).  Yesterday I drove the 450 miles back home from Wick.
Before I give the Skiddaw race details, I'd like to give a quick plug for the Across Wales Walk.  This is one of the oldest ultra events in the UK, 2018 being the 55th.  I've run it many times.  It's traditionally been an event for walkers, but runners have always been welcome too.  It's a volunteer-run event, and the price includes an overnight stay at Aberystwyth University after the event, and a coach back to England.  This was the first time for many years that the event didn't fill up, and it needs to fill to remain viable.  It's very much an event with its own community, and a lot of socialising both during and after the event.  The recommended route makes for a brilliant day out, visiting places you'll never see otherwise.  Note that it's not a race in any respect, as you can take road options that are quicker in many places, but you're missing out a lot of the best of the day if you do.  You need navigation skills, which is one of the reasons numbers have fallen off, I think.  It's one of the best-organised events I know, and in fact I borrowed quite a lot of ideas from it when I set an ultra up myself a few years ago.  Anyway, assuming it doesn't clash with a Runfurther race in 2019, please consider entering the AWW – they could do with a few more runners.  You'll have a great weekend – I always have.  Entries will be on SIEntries from 1 May.
The Grand Tour of Skiddaw
Judging from Alwyn Nixon's race report and Nick's photos, it looks like it was a great day round and up Skiddaw again this year.  This was the sixth running of this race, and the second time for Runfurther.  Andy Swift (CVFR) smashed Jacob Snochowski's 2016 race record by nearly half an hour, winning in an astonishing 6:35:40.  Second was Lee Muir in 7:17:54, third Michael Irving (DH Runners) in 7:35:57, and fourth was Sabrina Verjee in 8:07:00, breaking her own women's course record by 7 minutes.  Second woman (11th overall) was Philippa Wakefield (DH Runners) in 8:30:48, and third (15th overall) was Fiona Lynch (Radcliffe AC) in 8:49:51.  Until this year Sabrina was the only woman to have run this race in under 9 hours.  Age categories don't come into the race results, but I'd be surprised if any other MV60 beat Alwyn Nixon's great time of 9:21:30, so well done to all of them, and to the rest of the 142 finishers.  There's a link to the full race results on the race website.
Thanks very much to Alwyn Nixon for his race report (see below).  Nick Ham's photos of the day are on his Flickr pages as usual, and as ever I've pinched a few for here.
The Runfurther leaderboard
I've updated the leaderboard, and with just two Long races to go, it's about time I made my predictions for who's likely to win what.  First to the men.  David Chetta is currently leading, and can't be caught by anyone who's already run four counters.  If either Ken Sutor or Rory Harris runs the Hardmoors 60 or Rotherham, then one of them will win.  If they both run one of the remaining races, Ken's favourite as he's currently ahead, but not by much.  David Chetta is probably going to be in the top three, but not necessarily, as there are a couple of other runners who could pull a good race out of the bag and beat him.  First MV50 at the moment is Nick Ham, with Steve Jones very close behind him.  Either could win, bu they probably won't.  That's because Martin Terry, Albert Sunter, Mike Burke and Kevin Smith all have better points per race averages, and surely at last one of them will run a good Long and take the MV50 title.  My money's on Martin Terry, mostly because he's got the best average and he wins it every year anyway!  First MV60 will be Alwyn Nixon, and first MV70 will be either Dick Scroop or Bob Nash, depending on Bob running one of the remaining races.  He'll have to run it though, walking probably won't overhaul Dick!  Bob's got the better race average, but Dick's already got 4 counters.
And so to the women.  Karen Nash cannot be caught, with three 1000 point maximums and 851 for Haworth.  Debbie Cooper is currently second, but would probably be beaten by Carol Morgan, Fiona Lynch or Sarah Challans if they ran one of the remaining races.  Carol's been  the fastest of the three this year (due mainly to her Fellsman run), with Sarah's pretty close behind Fiona in terms of Runfurther points.  Karen's going to be first FV50 by a mile, and Janet Hill first FV60.
In the team competition, Team Krypton is ahead with 7929 points so far, from 11 counters.  That's Karen & Bob Nash, and Nick Ham.  Second are Mercia Fell Runners on 6425, from 9 counters, and third Horwich RMI Harriers with 6290 from 8 counters.  It may well stay that way, but I wouldn't bank on it.  Remember, we use your running club as your team, unless you let me know you want to form an ad hoc team for the Runfurther competition (eg Team Krypton).  Just let me know who's in your team early enough in the season (it's too late for this year!)
There are no contenders for the Grand Slam this year, but there's still the maximum points award up for grabs.  Karen's well ahead on the women's side and unlikely to be caught, but it's a lot closer for the men.  Here, Nick Ham and Steve Jones are neck and neck, with Nick currently only three points ahead.  If they both run both remaining races one of them should win the points prize, but there's no telling who it will be.  If they don't run the races, they could be caught.
Good luck to everyone running in the Hardmoors 60 on the 15th!

Alwyn Nixon's race report
Grand Tour of Skiddaw – 1st September 2018
This was a "must do" for me – with one thing and another I hadn't managed to do a medium category race in the series and so needed a medium counter. It was also my first Lakeland event since last year's Lakes 42 and I was looking forward to revisiting the northern fells.
I arrived from South Wales at dark on Friday evening after the usual slow slog up the M5/M6, but it didn't take long to pitch my tent, register and make something to eat. After a comfortable night I awoke to the strains of the La Sportiva sound system – "It's gonna be a beautiful day" followed by "I will survive". I chatted with Nick, who had got up a 3 am to drive up that morning, before the start and then we were off. I decided to ease into it rather than dash to beat the queue at the first kissing gate, and enjoy the first few easy miles. I was wary of going too quickly early on and not having enough left for the runnable return from the Caldbeck checkpoint. Even so, my legs felt a bit jaded after my previous weekend in Snowdonia.
The steady climb up High Pike passed ok, although as usual my uphill walking pace was slightly slower than those around me and I lost a bit of ground, but pulled some of this back on the rougher descent down Grainsgill. The next 3.5 miles to Skiddaw House is gradual uphill and felt a slog – I was relieved to get this over and start on the downhill section round the slopes of Lonscale Fell to the Latrigg checkpoint. Some great views down St John's in the Dale from the high path and then across Derwent Water to the fells beyond were a bonus – although there was a cloud base at about 2500 ft, sunlight was penetrating the cloud layer and bathing the background hills, giving a spectacular contrast of light and shadow.

I reached the Latrigg checkpoint in a little under 4 hrs. I had found the second leg quite tough, and was feeling slightly grumpy. Probably suffering a bit from energy depletion – I didn't carry my usual banana at the start as the checkpoint detail had promised some at Caldbeck, but they either weren't there or I somehow missed them. Checkpoint food is an issue for me because I'm coeliac and so all the usual flapjack/cake/pasties/sandwiches/pasta on offer is no good to me. However, the checkpoint lady was very tolerant and I accepted a gluten free energy bar, along with a few crisps, salted nuts and some cheese chunks which she kindly put in a bag for me to take with me. Excellent service! The real bonus here though was the water melon – just the job as it was quite a warm day.
Suitably fortified, I left for the long grind up Skiddaw. Not a lot to be said for this way up – I find it pretty tedious and it just seems to go on and on. The top 600 feet or so was in the clag, but it wasn't cold or wet (at least not when I was there), so no need for extra clothing. Rang the bell as ordered at the summit and then off down the first steep section, watching my foot placement and avoiding the rocks and the lurking event photographer. The rest of the descent over Ullock Pike was a delight, nice views of the lower ridge with Bassenthwaite Lake on one side and Southerndale on the other. By the bottom I was back with various runners who had got away from me earlier and was feeling ok again. After the Peter House Farm checkpoint the 17 miles or so to the finish are fairly quick, with sections of road and track and no severe uphill sections. Some of those around were starting to walk more frequently and I decided to push on and keep moving as best I could. I reached the Caldbeck checkpoint in good shape and paused only to fill my bottle before heading through the village to the final return miles along the river. I knew I would be well inside 10 hrs if I kept moving, but the last 3 or 4 miles were still an effort and I could feel my pace dropping. Andy is right, the return is longer than it seems on the way out, but every step at slow run pace is one less step at walking pace! The last bit from Rose Bridge was actually less than I expected – and no queue at the kissing gate this time. Job done, time for a nice sit, then something eat and drink, hot shower and see how the day had gone for others. I was too tired to contemplate driving home immediately, so rested off and on in my tent until about midnight and then decided to head home in the small hours. Good decision – I was in bed by 5.30am and had my kit sorted and was out picking blackberries by midday on Sunday.

There were 144 finishers (14 were running as pairs). First home was Andy Swift of Calder Valley Fell Runners in a very fast time of 6h 35m, over 40 minutes quicker than second placed Lee Muir. First lady was Sabrina Verjee, 4th overall in 8h 7m. They don't do age category placings so I'm not sure about the best age group times. Runfurther members seemed a bit thin on the ground. However, besides me (9h 21m), I'm aware of Fiona Lynch (8h 49m), Steve Jones (10h 57m), Debbie Cooper and Daryl Bentley (11h 2m), Nick Ham (11h 43m), Janet Hill (13h 31). Apologies to those I have missed.
Overall verdict – a really good scenic day out, a well organised event and the course marking was a bonus and very reliable. Many thanks to all concerned.