The Hike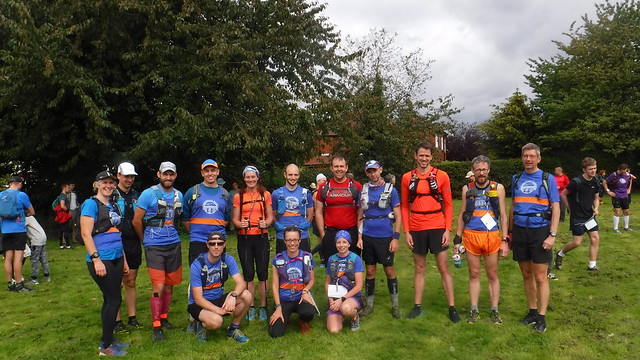 The results are up on the hike website.  Kevin Hoult's time has been corrected since those times were posted originally, and I've now updated the Runfurther leaderboard to match.  Rory Harris finished in a blistering 8:10, making Runfurther points hard to come by for all the other men on the hike.  Kevin Hoult finished second in 8:52, then Lawrence Eccles came in third in 9:17.  Next to finish in 10:21 were Jayne Lawton and Richard Kendall, making Jayne the first woman home by over two hours.  Coming in together in 23rd place were Sophie Kirk and Stephanie Wood in 12:34.
From Kevin Hoult: "Perfect weather conditions for a long run and the usual well organised and marshalled event you would expect."  Apart from that I've got no information about how the hike went, but Nick Ham was on the DNF list, so I hope he's OK.  He pulled out due to his recurrent vertigo problem (the illness, not a fear of heights).  He did get some photos before he had to stop though, and you can find them on his Flickr site.  As usual I've borrowed a couple to use here.
Nigel Aston wrote up his run (his 16th completion), and you can read that here.  Karen's away so wasn't at the event.

Runfurther championship standings
I've updated the Runfurther leaderboard.  Rory Harris is looking unassailable for this year's men's title, although theoretically he could still be beaten by anyone who's already won any of this year's races.  Kevin Hoult is looking a safe bet for second place.  David Chetta is currently third with good headroom over those behind him, and is the most likely to finish in third place.
Sabrina Verjee is still looking good for this year's women's title, but I wouldn't put it past Karen Nash to finish first woman at Rotherham and one of the other two remaining races.  If she does that, and Sabrina doesn't win one of the remaining races, then Karen will probably win out.  Hayley Evans is in a similar position to Karen, and could also end up champion, but I've no idea whether she's going to be trying to win any of the remaining races – Karen's got form and if I know her she'll probably be intending to give it a go.  Anyway, Hayley needs a win at the Three Towers and one of the other two races to overhaul Sabrina.
Karen's got the women's V50 title in the bag as usual, and Janet Hill the women's V60, again not for the first time.  Martin Terry looks set for another MV50 title.  No V60 or V70 men have run four counters yet, but the most likely contenders are Alwyn Nixon and Bob Nash respectively – Alwyn needs to run the Dig Deep 30, and Bob needs to run at Rotherham to make up the counters.
Valley Striders are currently heading the team championship, with Team Krypton close behind.