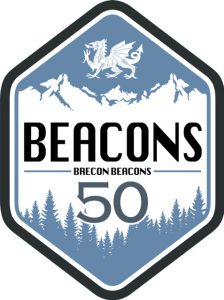 Click here for the Beacons Ultra website
Date:  Friday 7 August 2020 (100-mile), Saturday 8 August 2020 (50-mile)
Distance:  52 or 100 miles (Long)
Ascent:  10800ft/3300m (52 miles), 22000ft/6730m (100 miles).  22000 ft is 3/4 the height of Mount Everest above sea level.
ALREADY OPEN FOR ENTRIES
This race starts at Brecon, and you will be running across the Brecon Beacons and Black Mountains.  This is a very challenging area to run in, with a lot of ascent and descent.  If the weather is hot, there will inevitably be a very high attrition rate.  In 2019, on the other hand, the weather was so rough that the 100-mile race had to be abandoned.
If you enter the 100-mile race your Runfurther points will be calculated based on the fastest runner of your sex in the 100-mile race, and the same for the 50-mile race.  It's up to you which you enter.